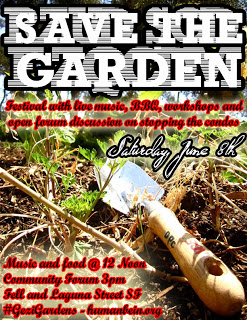 Another badass flyer. DIZAM!
Last evening at around 7pm, SFPD issued an eviction notice citing 'unlawful lodging, disorderly conduct,' and 'health and safety laws' to the Gezi Gardens, the occupied community green and garden space on Fell and Laguna Streets slated to be turned in luxury condos. Occupiers, made up of those on the ground and supporters from around the city and the neighborhood, are planning a festival on Saturday, June 8th, starting at 12 Noon. Participants believe that police will attempt to raid the camp before the festival as a way to drive away community support for the space. Support is needed at the gardens now more than ever! Solidarity with Turkey, Defend Gezi Gardens!
From Twitter:
"Tree sitters, activists and community members have been served with a notice to vacate the land known as the former Hayes Valley Farm, now christened Gezi Gardens. Police cite Trespassing , Disorderly Conduct, health code, and fire code violations. We reject the conversion of greenspace into luxury apartment developments, and encourage the community to assist in creating an alternate vision that provides the affordable housing the city needs without compromising one of our last open spaces.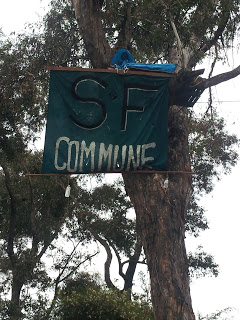 Is 'Brickman' up there? GULP!
Contact: 201-388-2367CONVERGENCE TONIGHT AT FORMER HAYES VALLEY FARM (Laguna and Oak Streets, SF)
PRESS CONFERENCE TOMORROW, FRIDAY June 7th 10:00 a.m. (Laguna and Oak Streets, SF)This is one of three urban gardens and permaculture farms in San Francisco that are slated to become housing developments by the end of the year. This is during a fervent dialogue about the need for more spaces to grow local, organic food and current statistics of 36,000 vacant units."On
Saturday, June 8th
at 12 Noon, there will be a festival held at Gezi Gardens as well as a community discussion forum about the future of the space. Please come and support the gardens and the occupation by coming and spending time there and helping to build support for the event on Saturday. The more people on the ground, the less likely a police raid.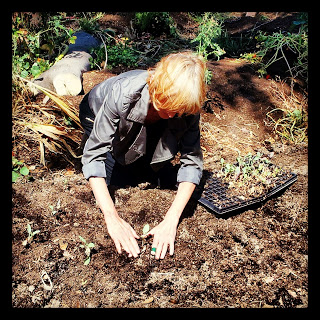 "I like the way you plant it…No Diggity!"
Having walked around the camp today taking pictures and conducting interviews, I can personally say that the camp is coming along very nice. I was only there for about 20 minutes before going to work, but in that time several people in the neighborhood stopped by and walked around, many taking flyers back to their buildings. The neighborhood seems very white and upper-middle class and along the lines of, "What petition can I sign?," but overall I haven't heard one negative comment regarding the project. One young person I talked to said that she now, "Hangs out there," instead of down the street at the coffee shop and also volunteered to take posters and put them in her building. One couple drove their SUV into the lot and donated several flats of pears; others donated pastries. The kitchen area was well cleaned and there was a stove and eating area. The garden itself was very impressive. At this point, a large amount of land has already been planted on. One woman, (shown in the picture), agreed to have her photo taken while she was planting. There are several treesits that have been constructed, many very high up. There are also several other structures that are being worked on or that have been built, as well as a common area, art space, free store, and library box.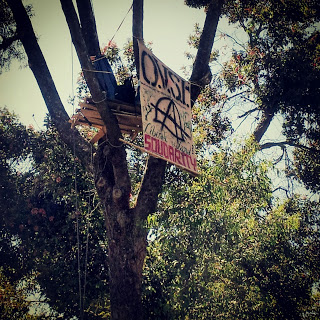 Tree-sit with banner.
People overall seemed concerned about keeping trash and waste to a minimum and also keeping camping and personal items away from common space areas and making the garden overall inviting to people. Lots of dogs playing. Would have been a nice place to read a book if I didn't have to go work! I'll save my further analysis for a later time, but what makes me most sad is that I haven't even had enough time to get in the dirt and plant. Can't wait to put these black and green thumbs to work! The old People's Park slogan bodes well here. 'Everyone gets a blister!'
In other news,
Susie Cagle
,
radical-journalist
on hand to uncova the scoop and author of
9 Gallons,
a comic about doing time with SF Food Not Bombs, even managed to give yours truly an
honorable mention in one of her comics
, …ah, ala Twitter. Apparently the offer to trade jobs of bus driving in Richmond and writing (and getting paid!) was funny enough to share with others. Keep prole and take a stroll.
SFPD is some party-poop pas.