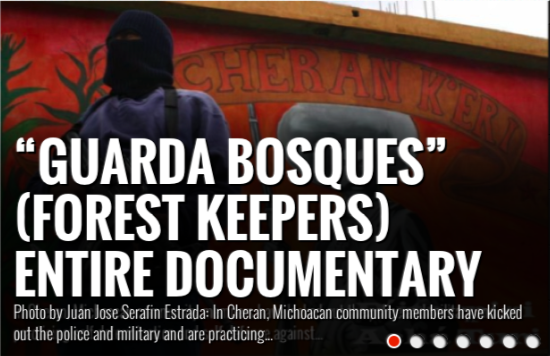 In Cheran, Michoacan community members have kicked out the police and military and are practicing self determination and self defense against the local corrupt narco-government.
photo by Juan Jose Serafin Estrada
On April 15th 2011, when organized crime thugs teamed up with the logging industry and different government agencies to pillage precious and sacred forests at gun-point, the indigenous Purepecha community of Cheran, Michoacan, Mexico rose up with sticks, rocks, and bottle rockets against what can only be described as their local narco-government. Since then, they have taken the authorities offices, weapons, and pick-up trucks, ousted all political parties and all local and state police, and have re-established a traditional form of self-governance that includes its own council of elders, a community "police", known as a "ronda", and its own forest defense team, or forest keepers, known as the "Guarda Bosques."
"Guarda Bosques" (Forest Keepers) 45 min.
El 15 de abril de 2011, después de que los matones del crimen organizado se habían unido con la industria maderera y distintas agencias del gobierno para saquear los bosques preciosos y sagrados con la fuerza de las armas, la comunidad indígena Purépecha de Cherán, Michoacán, México, se levantó con palos, piedras y cohetones contra lo que sólo se puede describir como su narco-gobierno. Desde entonces, han tomado control de las oficinas de las autoridades, sus armas y sus camionetas para luego echar fuera a todos los partidos políticos y todos los policías locales y estatales. Han re-establecido una forma de auto-gobernación tradicional que incluye su consejo de ancianos, su "policía" comunitaria, conocida como "la ronda," y su propio equipo para la defensa de los bosques, conocido como los "Guardabosques."