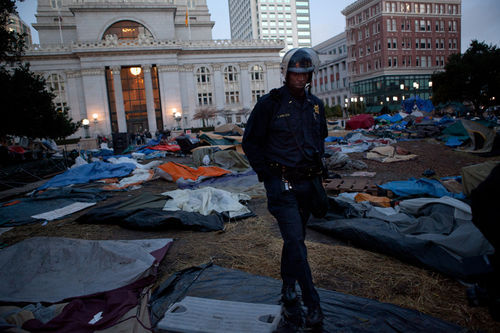 By Kate Conger. NLG and WeCopwatch helped contribute to this article. . .Reposted from SF Weekly
Sri Louise Coles was determined to hold the picket line. She remembered seeing a picket outside the A&P as a kid, so she understood what she had to do: walk a loop in front of one of the many entrance gates in the Port of Oakland, keep moving, and shout slogans with the other protesters. A brass band played and demonstrators joined in with shakers. It reminded her of a parade.
It was April 7, 2003, and the assembly was in protest of American President Lines, a shipping company believed to transport military supplies to U.S. soldiers in Iraq. By blocking the shipping terminal gates, demonstrators hoped to temporarily disrupt American President Lines' operations.
Word traveled through Coles' group that police officers were at other gates in the port, firing rubber bullets at picketers. Never having seen a rubber bullet before, she imagined a small plastic BB — nothing too harmful.
Oakland police officers in riot helmets arrived at Coles' gate and ordered the demonstrators to disperse. Coles, unwilling to be arrested, complied. She stepped out into the street, joining a larger crowd of demonstrators whom police had already cleared from other gates.
Suddenly, she heard explosions. What seemed like debris fell around her and ricocheted up off the road. Other demonstrators began to run, but, fearing for the safety of her eyes, Coles and a friend crouched down behind a car. An officer approached the pair and ordered them back into the street. As they stepped out from their makeshift shelter, several police on motorcycles revved their engines and charged, striking them. Shocked and terrified, Coles tried once again to take shelter, but the officer screamed at her again, telling her she had to go.
She sprinted diagonally across the street, trying to avoid being hit by the motorcycles. A woman with a large camera dangling from her neck was screaming hysterically. "Are you getting this?" Coles asked her. The woman was incapable of responding.
Coles turned away to continue down the side of the road, away from the police. As she turned, something struck the side of her face. She ducked, eyes clenched shut. When she opened her eyes, she could see her jaw swelling into her line of sight. "I've been hit," she told her friend. She hadn't broken the law or violated police orders, but the police were treating the crowd itself as a threat. Her participation in the protest had earned her a beanbag round to the face.
That 2003 protest was but one incident in the Oakland Police Department's lengthy, routinely brutal struggle with the city's activist community. Oakland protests frequently turn violent — often, as in 2003, because officers attack peaceful demonstrators, and sometimes, as at a recent protest over the George Zimmerman verdict, when demonstrators attack bystanders, journalists, or the police. Protests are a particular challenge for the already-troubled department: Police are charged with protecting a crowd's First Amendment rights in addition to their typical law enforcement duties. It's a challenge OPD has yet to master.
The department's handling of crowds is problematic, and has been for many years. The rights afforded to protest participants — both by OPD's own crowd-control policy and the Constitution — have not been consistently upheld. Officers' haphazard use of force against crowds suggests that policy and law have been downright ignored. The names of protesters injured by OPD over the past decade change, but the police are always facing the same enemy: the crowd.
The year 2003 had already been a rocky year for the OPD. A few months before the port protest, U.S. District Court Judge Thelton Henderson approved a negotiated settlement agreement in Allen v. City of Oakland, better known as the Riders case, a civil rights lawsuit alleging police misconduct within OPD. The settlement included a $10.9 million payment to 119 plaintiffs and the appointment of an independent monitoring team to oversee police reforms in Oakland.
The court-ordered reforms made the Oakland community hopeful for change, explains Rachel Lederman, a lead attorney with the National Lawyers Guild. But the injuries sustained by Coles and at least 57 others during the port protest shocked the city. "It was very distressing for the civil rights community that this happened at that time [of the Rider's settlement]," Lederman says. The brutal reaction to the protest sent a message that Oakland police weren't ready to reform.
In response, the NLG joined forces with the American Civil Liberties Union and the lead attorneys in the Riders case, Jim Chanin and John Burris, to sue OPD. Their suit led to the creation of OPD's first official crowd-control policy. Negotiated in 2004 among OPD, the ACLU, and the NLG, the policy was intended to give OPD guidelines for managing crowds without inflicting widespread injuries or otherwise violating demonstrators' constitutional rights. OPD issued the policy to all officers in a training bulletin dated Oct. 28, 2005.
The policy forbade officers from using several of the dispersal tactics OPD used at the port protest: It prohibited the wooden dowel rounds and stinger grenades, as well as the use of motorcycles as weapons. The policy also provided clear instructions for declaring unlawful assemblies and making mass arrests.
However, the policy did not prohibit other less-lethal munitions, such as the beanbag rounds that struck Coles in the jaw and neck. These munitions, which are fired from a standard 12-gauge shotgun, are small pouches of lead shot that fly through the air at nearly 200 miles an hour. Bean bag rounds are potentially lethal if fired at the head, neck, or other vital areas, so targeting these areas is forbidden. These rounds may not be fired indiscriminately into a crowd as they were in the port; rather, they can only be used to target specific individuals who pose an immediate threat.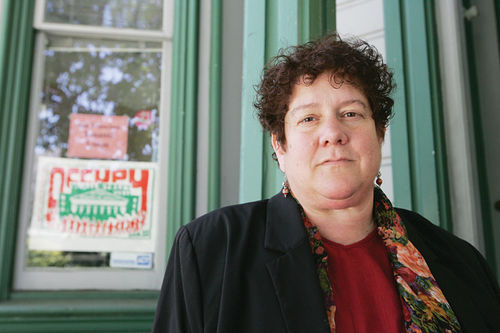 Photo of Rachel Lederman by Mike Koozmin
Although it represented progress, says Lederman, "The policy itself is not a law. It's a policy that's binding within the police department. But the overarching principle of the crowd-control policy is that the police will respond to crowd events, particularly First Amendment political activity, with the minimum reliance on force."
To ensure OPD's compliance, Judge Henderson placed the crowd-control policy under federal court jurisdiction for three years. If police violated the policy during that period, the court could step in to enforce it.
The three-year court supervision ended in late 2007, after an uneventful period for political dissidence in Oakland. But just one year later, BART officer Johannes Mesherle shot passenger Oscar Grant in the back as Grant, who was unarmed, lay face-down on the platform at Fruitvale station. For the first time since its adoption, the crowd-control policy was put to the test: Grant's death triggered waves of protests and riots, and it quickly became clear from OPD's handling of these protests that the policy had not reformed the department. Just when federal enforcement of the crowd-control policy became more crucial than ever, the court's oversight had vanished.
Large protests flared at virtually every step in Mesherle's ensuing criminal trial. He was initially charged with murder in Grant's death, but the charge was reduced to involuntary manslaughter. On Nov. 5, 2010, Mesherle was sentenced to two years in prison, with credit for time served.
Later that evening, Grant supporters set out from downtown Oakland toward Fruitvale station in protest of the sentence. During this march, Lederman says, "We saw that police had pretty much dispensed with the crowd-control policy." In fact, the events of that evening — and the revelations of the legal battle that followed — call into question whether the crowd-control policy had ever been properly instated in the first place.
The policy contains specific instructions for managing large crowds, including requirements that police declare an unlawful assembly, issue a dispersal order, announce routes by which the crowd can disperse, and give adequate time for demonstrators to do so before making a mass arrest. However, the march didn't make it far before it was hemmed in by OPD. After surrounding the 150 demonstrators, an Oakland officer announced over a loudspeaker, "This has been declared a crime scene and you're all under arrest." None of the provisions for mass arrests outlined in the policy had been followed. (OPD did not return repeated requests for comment, but did provide crowd-control training records in response to a California Public Records Act request.)
Dispatch records revealed that only 10 minutes into the march, Deputy Chief Eric Breshears instructed former Capt. David Downing, who was responsible for crowd-control that night, "The first opportunity you can, set up a surround to arrest. We'd like to employ that." He later added, "I'd like to not have the crowd cross Oak Street. If you could envelop and arrest before that, that would be great."
Once the march was surrounded, Downing asked, "Do we want to make announcements for unlawful assembly or they're already just under arrest?"
Breshears replied, "Affirm. Based on their activity over here, the vandalism that's occurred, affirm that it's unlawful assembly. You are to arrest everybody that's within that perimeter."
Despite Breshears' mention of vandalism, only two of the arrestees that night were ever charged with a crime, and demonstrators allege that the march was overwhelmingly peaceful.
It's unclear whether Breshears intentionally disregarded the policy when he gave the mass arrest order, or whether he was unaware of the requirements for mass arrests. Although the policy requires all officers be trained in crowd-control and receive "periodic crowd-control refresher training" throughout their careers, OPD's records indicate that regular training did not take place. Breshears' most recent training at the time of the arrests was a two-hour course in June 2009. Prior to that, he had attended two training sessions in 2005, when the policy was first instated.
Once again, the NLG filed suit against the department on behalf of demonstrators.
In a March 29, 2012, deposition, Downing admitted that he was unsure whether officers had ever been trained on crowd-control beyond his first one in 2005. When asked when he had received the training, Downing said, "More than likely a few years ago when the policy first came out and I know I had probably received at least one other update training during one of our command session training dates." He said he could not recall when this update training may have taken place.
"Was it prior to 2010?" Lederman, who was taking his deposition, asked.
"Yes, I would say at least that," he responded.
"Was it prior to 2009?" she asked.
"I can't recall to that specificity," he responded.
When asked if he had attended any crowd-control training since the mass arrests, he said no.
Downing had, in fact, attended two training sessions in 2005 and two sessions in 2009. His total training amounted to nine hours over the course of his career with OPD. From 2009, when the department's crowd-control policy fell out of court oversight, to 2012, when it earned hefty criticism over its handling of Occupy Oakland protesters, OPD held no trainings on the policy.
Thomas Frazier, the compliance director who oversees OPD's progress on the reforms mandated by the Riders settlement, wrote in a June 14, 2012, report that the department needed to improve its training on the crowd-control policy. Earlier that year, former police Chief Howard Jordan said that all OPD officers would undergo training by April 30. But in a June 14 memo responding to the Frazier report, Jordan wrote that development of the crowd management training curriculum was under way. It also stated that crowd-control training of all personnel was ongoing, despite the fact that the curriculum had not been completed.
In June 2013, the city of Oakland settled the Mesherle sentencing protest lawsuit for $1.025 million.
The year following Mesherle's sentencing, a new form of political demonstration took root in downtown Oakland — an encampment inspired by the Occupy Wall Street movement. Oakland demonstrators set up tents in October 2011.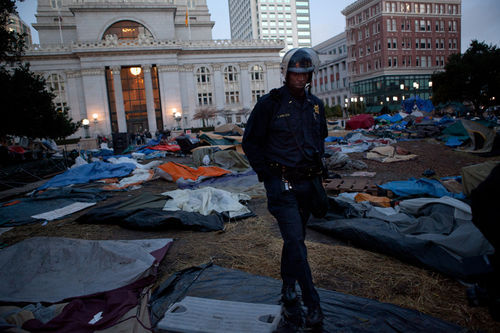 Photo by Geoff King
In the wee hours of Oct. 25, 2011, Oakland police raided the camp, beginning their first of several battles with the Occupy movement. Over the next few months, OPD made hundreds of arrests, inflicting injury along the way.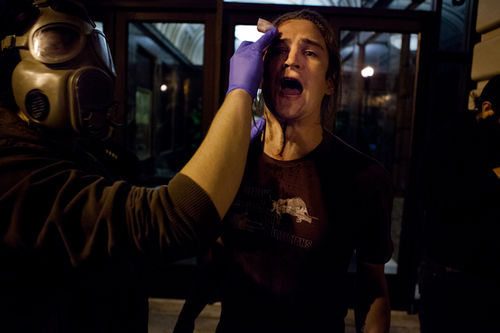 Photo by Geoff King
Among those injured was Scott Campbell, who was shot in the upper thigh with a beanbag round while filming a police line on the night of Nov. 2, 2011. His shooter, Officer Victor Garcia, was under instruction from Capt. Ersie Joyner to shoot anyone who crossed a line demarcated by a scrap of toilet paper on the ground in front of the police. This boundary was never announced to Campbell; still, he did not cross over the paper toward the police but rather moved parallel to the line. Garcia's shot was captured on his own Personal Digital Recording Device (a small video camera worn by officers and activated during contact with civilians), as well as Campbell's camera. On Garcia's PDRD, we see the officer tracking Campbell as he moved along the line. Despite taking careful aim at Campbell and having ample time to line up his shot, Garcia still hit Campbell in an area of the body that is not to be targeted unless lethal force is warranted.
"I was filming because we had seen before how useful video could be in cases of police violence," Campbell says. "I decided to film the police lines in case they did something later in the evening, so we could identify who they were."
Other peaceful demonstrators who were severely injured were Sukay Sow, Max Stiers, and Suzi Spangenberg. Sow's foot was hit by a grenade and severely burned as she fled a cloud of tear gas. Stiers was shot in the elbow with a beanbag round as he went to the aid of a woman in a wheelchair who had been tear-gassed; he suffered a crushed tendon. Two grenades deployed at Spangenberg's feet left her with partial hearing loss and permanent tinnitus, a condition that causes a constant, high-pitched ringing sound in her ears. "The intended effect of such a heavy, armed response was to spook people and that's what it did," says Stiers.
Labor organizers Brooke Anderson, Kevin Christensen, and Max Alper were all unlawfully arrested as they prepared to leave a peaceful protest. During their arrests, Officer Cesar Garcia entered the crowd, clubbed several people with his baton, and then stood back, not involving himself in the arrests. Garcia was later captured in PDRD video asking if he had to include the use of force in his report, laughing, "I jabbed one of them fat things friendly."
OPD's interactions with Occupy protesters once again made clear that the department had no intention of following its own crowd-control policy. The policy requires that less-lethal munitions be targeted against specific individuals. But throughout the Occupy movement's tenure in Oakland, police indiscriminately used tear gas, beanbag rounds, and grenades against large crowds of peaceful protesters. Uses of force are intended to enable arrests, but, with the exception of Anderson, Christensen, and Alper, none of the injured demonstrators mentioned above were ever arrested.
The NLG again filed suit on behalf of the individuals listed above, citing OPD's non-compliance with its crowd-control policy. The City of Oakland settled on July 3, 2013 for $1.17 million. As part of the settlement, the crowd-control policy was placed back under federal court supervision for an additional four-year period, which can be extended up to seven years if further violations occur.
Several other cases involving OPD's most egregious actions against demonstrators are still making their way through the courts. Military veterans Scott Olsen, who suffered a fractured skull from a beanbag round, and Kayvan Sabehgi, whose spleen was ruptured during an unprovoked beating, are suing the department.
And on Jan. 28, 2012, OPD re-enacted the same tactic it used against Oscar Grant demonstrators in 2010, surrounding a march and conducting a mass arrest, without giving a dispersal order. This time, they arrested more than 400 people, including Coles. None were ever charged with a crime, but many spent more than two days in jail as officers struggled to process the backlog of arrests. A lawsuit over this incident is ongoing.
Although Coles is aware that the First Amendment guarantees her right to peacefully protest, she says it feels like that right is under threat in Oakland. "If you have an understanding, particularly a first-hand understanding, of the OPD, paranoia is par for the course," she explains. In the days after she filed her lawsuit against the police in 2003, Coles says she received several threatening voicemails from anonymous callers, until finally she changed her phone number. She had nightmares about being attacked in her home.
Coles also became more cautious when attending protests — always riding her bike, staying a little away from the crowd, and constantly scanning for escape routes. These tactics weren't enough to prevent her from being swept up in the Jan. 28 arrests. "The only conclusion I could surmise after that," she says, "was that it was the intention of the police department, sanctioned by the City of Oakland, to intimidate Oakland residents from participating in any kind of political dissent, any kind of mass demonstration."
Anderson and Christensen, both of whom were unlawfully arrested on Oct. 25, 2011, are seasoned labor activists. Christensen also attended the anti-war protest in the port in 2003, where he was tear-gassed while walking in a picket line. Both he and Anderson also attended several protests against the slaying of Oscar Grant. Over the years, Anderson says, "We've seen the pattern where OPD had used violent tactics, to be honest, to telegraph a message to the community that dissent won't be tolerated."
"They would rather do something they know is wrong and wait to see if someone is going to file a lawsuit," Christensen adds, "than to not do it."
Despite their experience, both Anderson and Christensen say they would attend demonstrations in Oakland in the future. Having a strong community of fellow activists who supported them throughout the experience made them feel less intimidated.
The same wasn't true for Sow. "I feel like it's a process. I haven't been to a protest since. I feel like I would like to go back, but it's going to be hard. I used to worry about the crowd doing something rather than the police, but now I feel the opposite."
This kind of fear and intimidation is the worst-case scenario for Lederman, who helped draft the crowd-control policy with First Amendment protections in mind. She says she continued to bring litigation against OPD "to try to enforce the crowd-control policy, but what I mean by that is not the crowd-control policy itself, but rather to enforce the Constitution and the right to protest."
OPD's repeated violations of its crowd-control policy are part of the department's systemic struggles. Incessant cutbacks, understaffing, and turnover in leadership — since 2003, Oakland has had six police chiefs, one of whom only held the position for 48 hours before resigning — contribute to its problems. Oakland is also consistently ranked as one of the most crime-ridden cities in the nation, making it no easy place to police.
But the department is also plagued by problem officers, whose repeated violence over the years continues to cost the city millions of dollars in settlement cash — with more settlements likely to come this summer.
In 2003, Coles was shot by one of four officers on a tactical squad known as a Tango Team that was revealed in court documents to include Christopher Del Rosario, R. Gutierrez, Patrick Gonzales, and Roland Holmgren.
It's unclear which officer fired the beanbag round that actually hit her, but several of the officers have problematic histories.
In 2007, Del Rosario was sentenced to nine months in jail and five years probation after pulling a gun on bystanders who witnessed him assaulting his girlfriend on a Sonoma street. During his trial, Holmgren told the San Francisco Chronicle that Del Rosario had been on disability leave from the department for three years.
Gonzales and Holmgren also have histories of violence. Gonzales' record was documented in a 2011 Color Lines investigation, which revealed that the city of Oakland has paid $3.6 million in settlement money in lawsuits related to Gonzales' behavior on the force. Gonzales has been involved in at least four officer-involved shootings (incidents in which a police officer fires on a citizen). Holmgren has been involved in at least one shooting.
The members of the second Tango Team working in the port that day included Officer Frank Uu, who is identified in court documents as the officer who beat Sabeghi and ruptured his spleen on Nov. 2, 2011. Gonzales was Uu's supervising officer that evening. Court documents state that Gonzales "failed to adequately supervise" Uu, and also "approved and condoned" his treatment of Sabeghi. At the time, Uu's only crowd-control training had been a single one-hour session in 2005 (he attended a second session after the incident).
While the Oscar Grant demonstrators were contained on Nov. 5, 2010, an incident occurred that perhaps contributed to OPD's decision to declare the area a crime scene. Officer Robert Roche accused a woman of stealing his partner's gun. However, his partner's incident report revealed that his holster had broken and he had only momentarily dropped his gun. The woman was never charged.
Roche has participated in at least three officer-involved shootings. The East Bay Express has also identified him as the officer who lobbed a grenade at demonstrators while they tried to rescue Olsen after he was shot in the head with a beanbag round on the night of Oct. 25, 2011.
Officer Cesar Garcia, who struck several demonstrators with his baton during the arrests of Anderson, Alper, and Christensen, has participated in two officer-involved shootings. He was joined in one of these by Capt. Ersie Joyner, who issued the commands on Nov. 2, 2011, that led to Campbell being shot in the leg with a beanbag round. Joyner has been involved in at least four other shootings, as well as the incident with Cesar Garcia.
Officer Victor Garcia, who acted on Joyner's command and fired the beanbag round that hit Campbell, has participated in at least two officer-involved shootings.
Officer-involved shooting statistics hint at a deeper problem with violence in OPD. A 2010 internal study conducted by the San Francisco Police Department revealed that, over a five-year period, SFPD officers had participated in 15 shootings. Over the same period, OPD participated in approximately 40, despite the much smaller population OPD polices. The level of violence OPD metes out on a day-to-day basis bleeds over into the way the department handles protests.
Violent officers set an example for others in the department. PDRD video from Oct. 25, 2011, includes footage recorded in a police vehicle on its way to the raid on the Occupy camp. The video captures a conversation between several officers, one of whom noted that occupiers have constructed a fence out of pallets and bikes around the camp to keep officers out. He continued, "At least by this point, they realize if they do have kids in there or something stupid like that you'd hope they'd already have had them out. That way we can just go straight into the savage beating."
"The history is so long and it's been so entrenched," Lederman says. "Having officers who were involved in officer-involved shootings then being the same officers who are using the less-lethal munitions against demonstrators — it's all interwoven."
Ten years after she first began working on OPD's crowd-control policy, Lederman feels frustrated that reforms are taking so long. "It's not only 10 years of the crowd-control policy, it's 10 years of the NSA [the negotiated settlement agreement in the Rider's case that required OPD to implement systemic reform] and they haven't cared. Not only have the police not cared, the city government hasn't cared and hasn't been able to get basic reforms done. If there was a basic culture of accountability, that would also improve the crowd-control issues."
Additional scrutiny seems to help force a culture of accountability into place. Since receiving criticism for its handling of Occupy in the fall of 2011, OPD has begun holding crowd-control training sessions again, with several taking place throughout 2012 and early 2013.
Even though his legal case has been settled, Campbell still feels uneasy about OPD's ability to reform. "I think they're extremely resistant to the message that they need to reform," he says. "I would like to think, with all the new oversight in place, that something like this won't happen again."
Stiers, one of the plaintiffs injured on Oct. 25, adds, "My only hope is that this suit and the others that are in litigation will help spur policy to prevent abuse, misconduct, and brutality in the future. There needs to be proper oversight, period."
Police have applied force at Oakland demonstrations, but without using it purposefully. The crowd-control policy specifies that force can be used as a means to an arrest; however, none of the NLG's plaintiffs were charged with violating any law when they were shot, beaten, or arrested. The wanton use of force does not remove troublemakers from crowds; it merely creates an atmosphere of fear that intimidates protesters from exercising their constitutional rights.
OPD has shown that it won't reform without a fight — and citizens will continue to be caught in the crossfire. In the meantime, negotiations are under way to revise the crowd-control policy. "All the protections and restrictions of the existing policy are intact or strengthened," Lederman says. "The question is going to be whether OPD can comply."