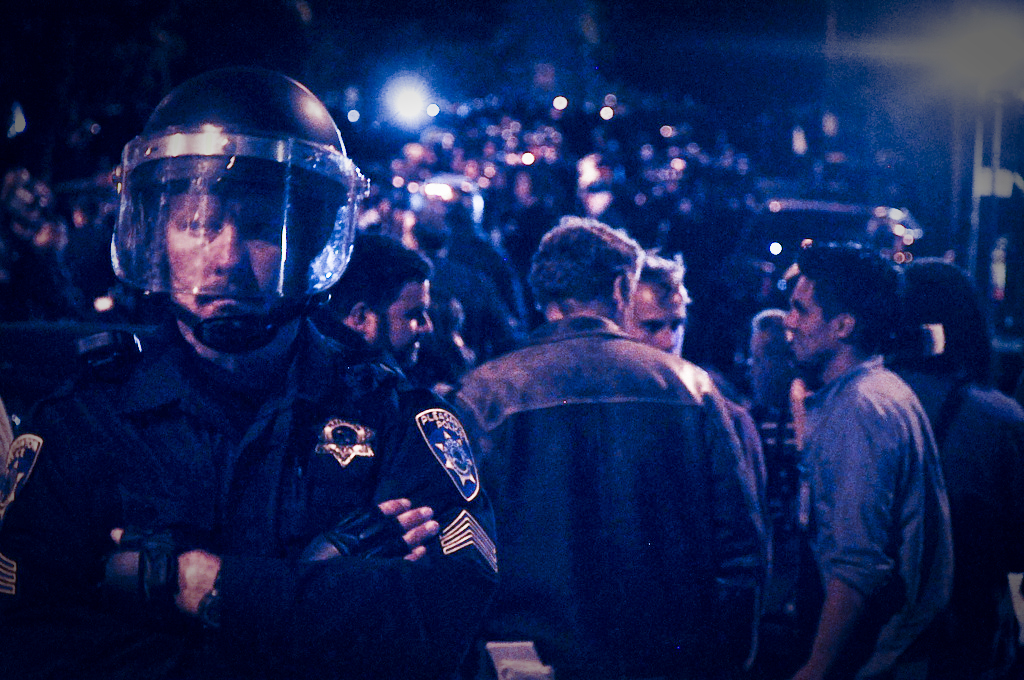 This is fresh out of Oakland where the National Lawyers Guild has just settled with the city of Oakland for a mass arrest of Oscar Grant Protesters back in 2010. Video produced by Jacob Crawford of WeCopwatch.org
CONTACT: Rachel Lederman, 415-350-6496, Carlos Villarreal, 415-377-6961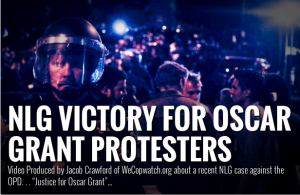 U.S. District Court Judge Thelton Henderson has granted preliminary approval to a $1.025 million settlement in a class action lawsuit brought by the National Lawyers Guild on behalf of 150 people who were arrested by Oakland Police during a Nov. 5, 2010, demonstration. The civil rights lawsuit, Spalding et al. v. City of Oakland, CAND No. C11-2867 TEH, challenged OPD's unlawful kettling and mass arrest of the 150, and their detention by the Alameda County Sheriff's Office, following a march protesting the light sentence given Johannes Mehserle for killing Oscar Grant.
Dan Spalding was an NLG Legal Observer at the march. "We were never given a warning or a chance to leave," said Spalding. "I tried to tell the officers that I was a Legal Observer, but they handcuffed me and put me on a Sheriff's bus. We were handcuffed and left sitting on the street and then in buses for a total of about eight hours without access to a bathroom. People urinated in their pants as we sat in the hot crowded bus. It was 3am before I was taken inside the jail and put in a cell with 27 other people. There was no place to sleep. I did not get out until 6:30pm that next evening."
"We were exercising our First Amendment right to protest police brutality by marching to the site of the shooting," added Katie Loncke, a named plaintiff, "but the OPD blocked us all in and arrested us for nothing." Loncke described that, "At the jail, all the women were made to go into a stall without a door on it and urinate into a cup for a pregnancy test. I was held in a very cold and crowded cell with fifteen other women. No food was provided for more than twelve hours after our initial detention. There was no room to lie down. I sat up against a wall for the entire night."
In addition to the $1.025 million monetary payment to the arrestees and their attorneys, the settlement agreement reaffirms, and provides for court enforcement of OPD's Crowd Control Policy for a period of up to 7 years. The Policy was the result earlier litigation over abuses against protesters. "We brought the lawsuit in order to protect the constitutional right to dissent in Oakland, and enforce the OPD Crowd Control Policy," explained lead attorney Rachel Lederman. "It is a model policy that gives the police many tools to respond to demonstrations without immediately resorting to mass arrests, weapons or force. Yet, OPD chose to scrap this policy in dealing with the Oscar Grant demonstrations. The policy, and the law, are clear that before police can stop First Amendment activity and make mass arrests, they must have a basis to believe that the individuals being arrested have broken the law. In most situations that means they must give demonstrators notice and opportunity to disperse, and there must be a constitutionally valid reason to do so. None of that occurred in this case. The 150 arrests were illegal, and the City has acknowledged that."
"This settlement is an important victory for democracy," said NLG attorney Bobbie Stein. "People are reluctant to express their political opinion if they can be arrested and thrown in jail for it. Oakland and Alameda County made a smart decision to settle this case and to agree to uphold the First Amendment in policing future demonstrations, rather than continuing to abuse people and subject the taxpayers to this type of liability. We are hopeful that, with this settlement and the new Compliance Director and new leadership in the Police Department, we may finally see some real change."
As part of the settlement, OPD and the Alameda Sheriff have agreed to implement expedited procedures for processing and releasing people arrested at demonstrations. Another attorney who litigated the case, NLG Chapter President Michael Flynn, explained that, "California law requires that most misdemeanor arrestees be released with a citation. But until now, in Oakland, even very minor charges often resulted in extended periods of time in jail under inhumane conditions." The demonstrators will receive orders of exoneration after the court gives final approval to the settlement following a hearing in September.
A video on the case, with footage of the events and interviews with arrestees, is available here: http://tinyurl.com/n5video

The NLG has supported social justice activists for decades, training legal observers and providing pro bono attorneys for activists arrested at demonstrations. Founded in 1937, the non-profit legal and political organization of lawyers, legal workers, law students and jailhouse lawyers uses the law to protect human rights above property interests and to attain social justice.
More information on the case, including case documents and claim forms: http://tinyurl.com/n5arrest
More info on the NLG: nlgsf.org
If you like what you have seen and read
Check out more of our content at http://wecopwatch.org/
Like us at https://www.facebook.com/WeCopwatch
Watch Videos at http://www.youtube.com/WeCopwatch
Check up on us at https://twitter.com/WeCopwatch
Donate at https://www.wepay.com/donations/wecopwatch
graphic by Josh Wolf