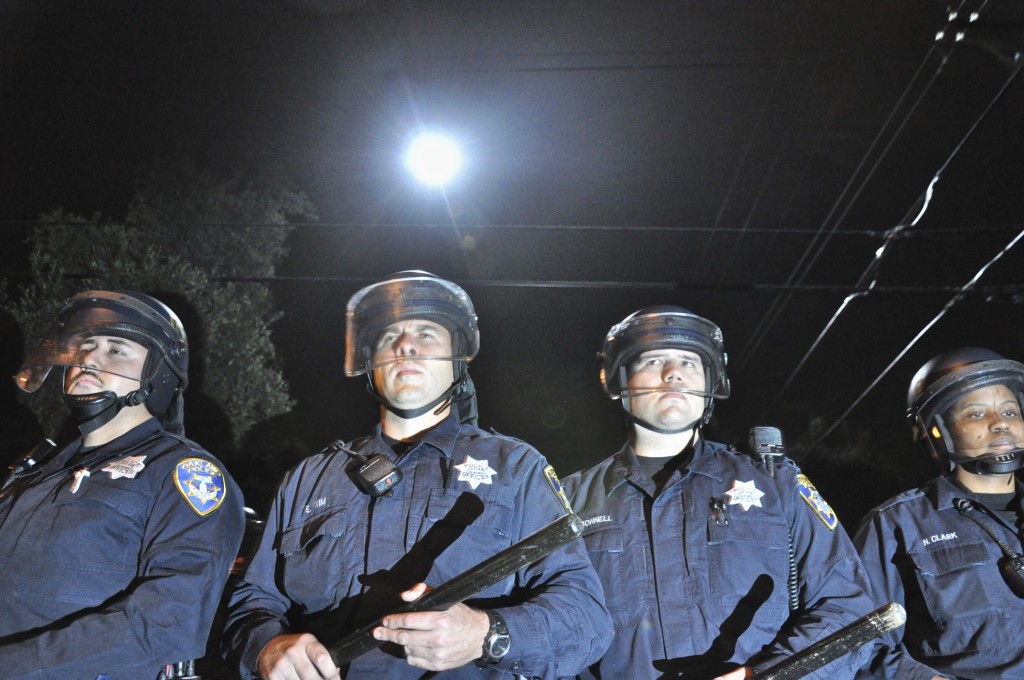 Thanks Kate Conger for the great writeup! Posted at SfWeekly.com
Today, the National Lawyers Guild announced that it has procured a $1.025 million settlement for approximately 150 demonstrators who were unlawfully arrested by the Oakland Police Department as they protested the "light sentencing" of Johannes Mesherle, the BART police officer who shot and killed Oscar Grant.
Rachel Lederman, lead attorney for the National Lawyers Guild, stated the following:
We brought the lawsuit in order to protect the constitutional right to dissent in Oakland, and enforce the OPD Crowd Control Policy. It is a model policy that gives the police many tools to respond to demonstrations without immediately resorting to mass arrests, weapons, or force. Yet, OPD chose to scrap this policy in dealing with the Oscar Grant demonstrations. The policy, and the law, are clear that before police can stop First Amendment activity and make mass arrests, they must have a basis to believe that the individuals being arrested have broken the law. In most situations, that means they must give demonstrators notice and opportunity to disperse, and there must be a constitutionally valid reason to do so. None of that occurred in this case. The 150 arrests were illegal, and the City has acknowledged that.
See also:
Oakland Assigns Just One Cop to Investigate 10,000 Burglaries
Second Chief Resigns From Oakland Police Department in 48 Hours
The arrests occurred on the evening of November 5, 2010. Earlier that day, Mesherle had been convicted of involuntary manslaughter in Grant's death and sentenced to two years in prison. That night, a group of Grant supporters attempted to march from downtown Oakland to the Fruitvale BART station where Grant was shot to death, in protest of Mesherle's minimal sentence. Mesherle was originally charged with murder, but the charge was later lessened to involuntary manslaughter. A judge also overruled a gun- enhancement charge that would have carried a longer sentence for Mesherle.
However, in a police dispatch audio obtained by the NLG (and compiled by WeCopwatch, an organization that works for police accountability, in the video below), officers can be heard discussing how to contain the march and arrest the protesters — a direct violation of their crowd control policy, which requires that OPD declare unlawful assembly to the crowd, offer several exit routes for those who wish to disperse, and give adequate time for dispersal.
Instead, the dispatch makes it quite clear OPD never intended to follow their policy that night, but rather planned to arrest the entire crowd. "We've got the first opportunity we can to set up to surround and arrest, we'd like to employ that," an officer says, just minutes after the march sets out. Another officer adds, "We could have them right here."
The crowd of demonstrators was quickly surrounded by police lines, then held at Sixth Avenue and 17th Street for more than an hour, according to protesters.
The dispatch then calls for announcements of unlawful assembly, as required by the crowd control policy: "On Sixth Avenue here we'll start to slowly make arrests. I'll need announcements. Do we want to make announcements for unlawful assembly, or are they just already under arrest?"
An officer on the scene responds, "Confirmed, based on the activity over here, the fights that occurred and the vandalism that's occurred, affirm it's unlawful assembly. We want to arrest everyone within that circle." At this point, no announcement of unlawful assembly had been made, despite the requests for one transmitted via dispatch.
The first announcement to the crowd came an hour after the march had been surrounded — and rather than declaring unlawful assembly, the announcement merely asked media to leave the area or risk arrest.
The final announcement was even more baffling: "This has been declared a crime scene, and you're all under arrest."
What crime was committed? Despite the fights and vandalism mentioned on the dispatch, none of the roughly 150 people arrested were charged with a crime. All were detained overnight.
Dan Spalding, one of the arrestees and a plaintiff in the case, recalls, "We were never given a warning or a chance to leave." He continues, "We were handcuffed and left sitting on the street and then in buses for a total of about eight hours without access to a bathroom. People urinated in their pants as we sat in the hot crowded bus. It was 3 a.m. before I was taken inside the jail and put in a cell with 27 other people. There was no place to sleep. I did not get out until 6:30 p.m. that next evening."
However, initial reports on the protest claimed that a serious crime had, in fact, taken place during the march. The night of the arrests, the Oakland Tribune reported: "One officer had his gun ripped from his gunbelt and pointed at him in a backyard in the area. Other officers intervened and made an arrest."
The San Francisco Chronicle wrote the following morning, "The situation turned dangerous when a protester ripped the holster and gun from a police officer's belt, [former] Police Chief Anthony Batts said at a news conference. The protester was swarmed by other officers and arrested."
However, officer incident reports from the night of November 5 show that no gun-snatching ever occurred, despite the fact that it was used to justify the mass arrest.
In his incident report, filed at 10:22 p.m. the night of the arrests, Officer Keith Geiger wrote:
I saw several rioters had began [sic] to jump fences into the backyards… I followed Officer R. Roche as he moved to the paved area…connected to the parking area. [A woman, later identified as Rose Mouton] suddenly jumped over the fence and onto the paved area where we were standing.

Due to Mouton trespassing on the property, her participation with the protest group, and because we did not want her to run back out behind the officers that were setting up a skirmish line, I elected to detain her.
Geiger goes on to describe tackling Mouton, then writes, "I then felt a quick tug on the right side of my duty belt. I then heard a snapping noise. I reached to the right side of my belt where my handgun is located and found that the holster had broken." He continues, "I looked to my right and saw a garbage can had fallen down. I saw my holster with my handgun inside near the garbage can. Officer Roche grabbed and secured my handgun."
From Geiger's firsthand account, it is clear that his gun was never snatched by a protester, but simply fell off when he tackled Mouton. She received no charges related to the gun incident, but was merely cited for resisting arrest and released that evening.
It is unclear why, when Geiger filed his incident report the very same night clearly explaining what occurred, that the Oakland Police Department perpetuated the story that a gun had been taken from an officer. A report on the arrests written November 8 again mentions the false gun-snatching story: "We were advised that officers were fighting with a suspect in the backyard of a house. Apparently during the fight, the officer's firearm was taken. The firearm was eventually recovered and the suspect was taken into custody."
More than two years later, those illegally arrested are finally receiving justice. In addition to the $1.025 million payment to the arrestees, the settlement agreement includes court enforcement of the Oakland Police Department's crowd control policy for the next seven years.
The settlement was approved by U.S. District Court Judge Thelton Henderson, who has also overseen the Oakland Police Department's decade-long journey toward federal receivership. Last summer, a whistleblower within the department reported that photos of Judge Henderson, "defaced in a manner that [Internal Affairs] found to be racist, insulting, and inappropriate," were hanging in a patrol line-up room.
"This settlement is an important victory for democracy," said NLG attorney Bobbie Stein. "Oakland and Alameda County made a smart decision to settle this case and to agree to uphold the First Amendment in policing future demonstrations, rather than continuing to abuse people and subject the taxpayers to this type of liability. We are hopeful that, with this settlement and the new Compliance Director and new leadership in the Police Department, we may finally see some real change."

Video Produced by WeCopwatch.org back in 2010