For the third time in just over a month, Federal agencies have assisted Oakland Police in failed raids across the acorn projects.
At 7AM this morning around 120 Oakland Police and Federal Agents from the Secret Service, ATF, DEA, and US Marshals raided several residences in the Acorn Projects. At this point there have been no arrests.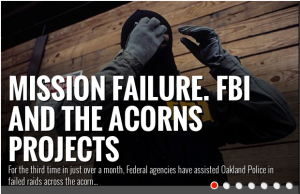 On Aril 24th, about 150 Federal Agents and about as many Oakland Police Officers conducted 16 raids in multiple cities with their primary focus, the Acorn Projects. They netted 5 arrests, a few guns and some drugs, but from all angles, it was a law enforcement failure.
The Feds Are in Town
Then on May a more downsized unit of 40 FBI Agents, and 30 Oakland Police Officers conducted several more raids in West Oakland, yielding 3 arrests, a few guns, and some drugs.
With this much effort put into one location, one could argue that the large sums of money being spent on law enforcement operations could have greater impact if it was simply given to the residents living in the Acorn Projects.
If you like what you've seen or read, feel free to
Donate at https://www.wepay.com/donations/wecopwatch
Check out more of out content at http://wecopwatch.org/
Like us at https://www.facebook.com/WeCopwatch
Watch Videos at http://www.youtube.com/WeCopwatch
Check up on us at https://twitter.com/WeCopwatch