Brooklyn Police Beat Gay Man and Use Homophobic Slurs
Repost from Village Voice. Written by Graham Rayman
A 26-year-old gay man was beaten eight days ago just outside Brooklyn's 79th Police Precinct by police officers who made homosexual slurs, the victim and two of his roommates who witnessed the incident tell the Voice.
The encounter, which took place around 4 a.m. on Sunday, June 2, and is under investigation by NYPD Internal Affairs, erupted after an officer standing in the precinct parking lot mistakenly accused one of the men of urinating on the side of the stationhouse, and then called in as many as 5 other cops to join in the assault.
Williamsburg waiter Josh Williams [pictured above], 5-foot-8 and 140 pounds, suffered a laceration on his face that required four stitches, bruised ribs, a black eye, and scrape on his torso. Williams and his roommates-Tony Maenza and Ben Collins, both 24-were then arrested on specious charges in what they call an effort to cover-up the attack. Maenza made an iPhone video of a portion of the incident.
The Voice has also learned that NYPD Internal Affairs Bureau started investigating after someone apparently associated with the precinct filed a complaint.
"This case is so extreme in how the encounter escalated so fast over something so silly and turned so violent," says Williams' lawyer, Cynthia Conti-Cook. "Based on how the incident started, there's very little to justify such extreme action other than homophobia."
Williams moved to New York from San Francisco fairly recently. He told the Voice in an interview Friday, "Thinking about it right now, I'm feeling very shaky. I'm a wreck-confused, angry-over the fact that people who are supposed to protect me did this to me for absolutely no reason."
Williams' ordeal began as the three men walked past the 79th Precinct stationhouse at 263 Tompkins Avenue. Williams told his roommates he needed to take a piss, but they told him to wait as they were almost home. An officer standing in the precinct parking lot shouted at them, asking if he had just urinated on the building. Williams said, "no."
"The officer shouted, 'Did you really just piss on the precinct?'" Collins says. "Josh says no. The officer didn't go over and check whether the building had actually been peed on."
The officer called them over. Williams and Collins complied, and the officer asked for their ID cards. Collins asked whether they were being detained. "He rolled his eyes and sort of snapped, twisting an arm behind my back and slamming me against a car," Williams says. "I was able to ask him what was going on, and he slammed me against the car and pepper-sprayed me. I was blinded and disoriented."
Collins: "He put his hand on Josh's neck and pushed his face into the hood of the car twice and pepper-sprayed him. Josh never tried to resist or run away."
Williams says he remembers then being tossed against a fence and then a number of officers putting their hands on him. "I get slammed to the ground and cuffed and then pepper-sprayed again. I remember yelling, 'Why are you so angry?' From there I don't remember much."
Other officers shoved Collins backward several feet and called him a "fucking asshole." "Josh was picked up and slammed on his face into the sidewalk and maced again," Collins says.
Maenza was watching the incident from the sidewalk and videotaping with his phone. "Josh is on the ground, he's surrounded by officers, he's been maced, and they pick him up and take him into the precinct," he says. "At that point, one of the officers called us 'faggots.'"
Collins recalled that the officer called them, "fucking faggots."
Handcuffed, temporarily blinded, and bleeding, Williams was dragged into the stationhouse, and left in a holding cell. He was given a charge of resisting arrest. It took several hours for a paramedic to arrive to treat his injuries and by then, his wrists had swelled alarmingly.
While he was finally in an ambulance on the way to the hospital, he says an officer remarked, "We better not tell him where the soap is." After he was treated, he was taken back to the precinct, where he was fingerprinted and sent to central booking. He was arraigned at some point the following day, Monday, June 3, more than 24 hours after the initial encounter.
Rewind to the moment just after Williams was taken, handcuffed, into the precinct. Maenza says cops told him and Collins to go home. He mentioned to one officer that he had recorded the incident on his phone. "We don't get halfway down the block when six or seven cops surround us," he says. "I'm asking, 'Are we being detained?' They handcuff us, and take us into the station, and one of the cops says, 'Don't worry, we'll find something to charge you with.'"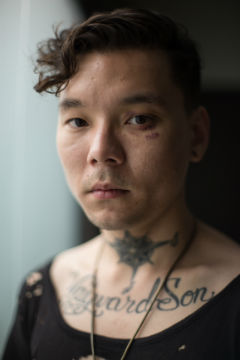 Caleb Ferguson

Collins says he was slammed against a parked van and handcuffed. "I asked repeatedly what we were being charged with, and I wasn't able to get an answer.

"I believe they arrested us because when the last officer who called us faggots, Tony told him that we had the incident on video, and I'm sure he relayed that information inside and they then decided to follow us outside and arrest us."

Conti-Cook says that Maenza told her that precinct cops may have tried to access his phone to delete the video, but could not get past his security password.

While they were in a holding cell with other arrestees at the precinct, Collins says the ordeal turned into something out of Animal Farm. Two of the men in the cell were taunting each other, but cops let it go on for more than an hour, despite other inmates asking them to separate the two antagonists. "The cops are ignoring them, playing on their iPhones," he says. "Then, they started fighting. Cops started yelling at them to stop and pointing a taser into the cell. At one point, the laser dot from the taser was on my chest.

"It felt as if we were an exhibit at a zoo," Collins says. "It felt demeaning and dehumanizing to be treated in this way. Our safety concerns ignored by the officers."

Reposted from Village Voice. Written by Graham Rayman

Maenza and Collins were held for more than 24 hours and eventually charged with obstructing government administration. They took an ACD-which means their record would be cleared as long as they are not arrested in the next six months. "We conceded to an ACD because we couldn't afford to miss any more work," Collins says.

Maenza, a clerk at a Manhattan outlet of Whole Foods, moved to the city last year from Florida. "I think I was the most level-headed during the whole situation; I think I know how to handle that kind of thing overall," he says. "But to see your roommate beat to a pulp by police officers-the homosexual slurs, the excessive force, for one small person, was just unnecessary."

Collins, meanwhile, feels similarly. "it's caused a lot of anxiety for me. Being brought up to think cops are there to protect and serve and to have an experience like this completely eradicates the idea that that's truthful in the least."

The Voice has contacted the Police Department for comment and will update the item when a response is forthcoming.

UPDATE:

At the end of a slightly longer video just obtained by the Voice (which is displayed above), Collins and Maenza engage in an expletive-filled shouting argument with an officer. Both sides exchange expletives, including the officer using the gay slur, and the two civilians, who call the officer a pig, telling him to go eat a donut and saying, "What the fuck did you say, you want to call me a faggot, you fat pig … go eat a fucking cock, nigga, what you want."

If you like what you have seen or read feel free to

Donate at https://www.wepay.com/donations/wecopwatch
Check out more of out content at http://wecopwatch.org/
Like us at https://www.facebook.com/WeCopwatch
Watch Videos at http://www.youtube.com/WeCopwatch
Check up on us at https://twitter.com/WeCopwatch