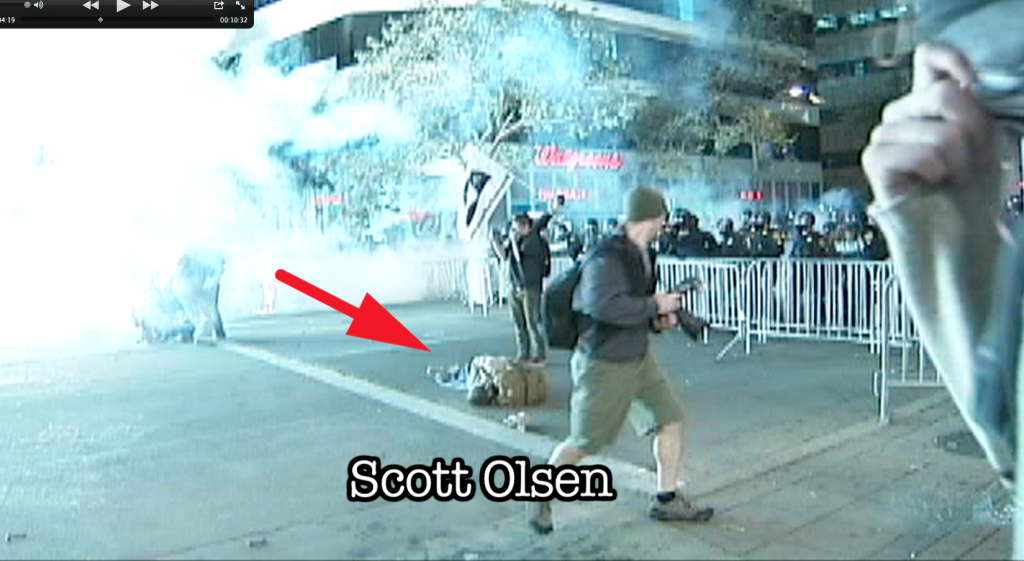 $4.5 Million Tentative Settlement Reached In Scott Olsen's Lawsuit for "Less Lethal" Shooting by Oakland Police
The City of Oakland has agreed to pay Scott Olsen $4.5 million to compensate him for devastating brain injuries he suffered when an Oakland Police officer shot him in the head with a "less lethal" munition on October 25, 2011, during a demonstration in support of Occupy Oakland. The lead filled "bean bag" round, fired from a 12 gauge shotgun, shattered Mr. Olsen's skull and permanently destroyed part of his brain. The settlement in Olsen v. City of Oakland, 3:12-cv-06333, is pending final approval by the Oakland City Council. Mr. Olsen was represented by attorneys Jim Chanin, Rachel Lederman, and Julie Houk.
"After serving two tours of duty as a United States Marine in Iraq, Scott Olsen could never have imagined that he would be shot in the head by an Oakland Police officer while he was peacefully exercising his First Amendment rights in support of the budding "Occupy" economic justice movement," said Rachel Lederman. "Scott was 24 years old when the shooting and ensuing brain damage robbed him of what had been a promising career as a computer network and systems administrator."
Jim Chanin said, "There was no dispute that Scott Olsen never posed a threat and was protesting peacefully. He was shot because OPD commanders decided to simultaneously use chemical agents to disperse the demonstrators and have officers shoot impact munitions at anyone who might be throwing something — even though this violated their own written policies. The obviously foreseeable result was that the officers shot people who were desperately trying to flee the scene, including Mr. Olsen."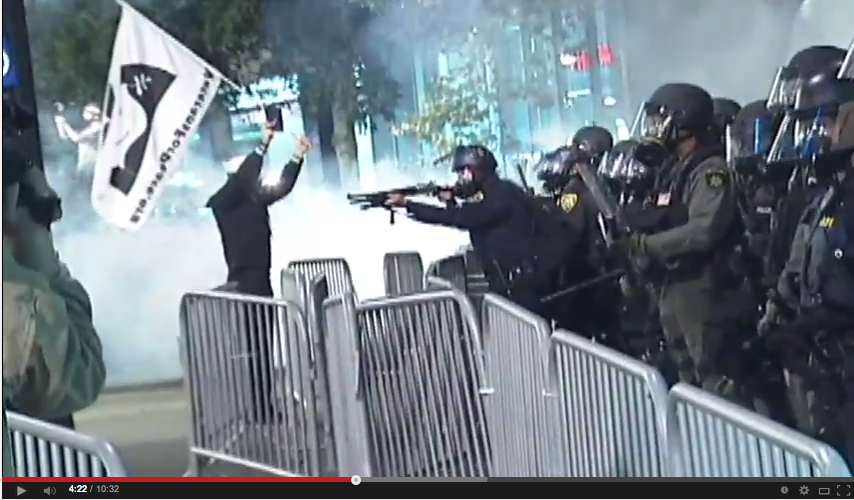 Mr. Olsen had only been at the demonstration for a matter of minutes before OPD commanders gave the order to use munitions on the assembled crowd. He was shot 18 seconds later. Lederman explained, "The commanders knew the teargas and flashbangs would cause people to panic and run, yet they elected to shoot SIM into the densely packed crowd and it is only a matter of luck that more people weren't injured as severely as Scott Olsen or killed. If the police had done sufficient planning for the demonstration and followed their own Crowd Control Policy, the use of weapons could have entirely been avoided. After all, no other Bay Area city responded to Occupy with SIM or teargas and no other city has incurred the enormous costs that the people of Oakland have as a result." "The cost is not only money," added Olsen. "If people can't speak out without fear of being shot we don't really have democracy."
After being shot, Mr. Olsen lay on the pavement critically injured and bleeding from the head, clearly visible very close to the line of police officers. When concerned protesters ran to his aid, OPD Officer Robert Roche threw a flashbang-like CS Blast grenade into their midst, causing them to scatter. The grenade exploded close enough to Mr. Olsen to burn his shoulder as he lay helpless. Civilians re-approached and persisted in carrying Mr. Olsen to safety, screaming for medical aid – but no law enforcement personnel responded or summoned medical attention even though their own policy requires them to provide medical aid to anyone hit with a SIM.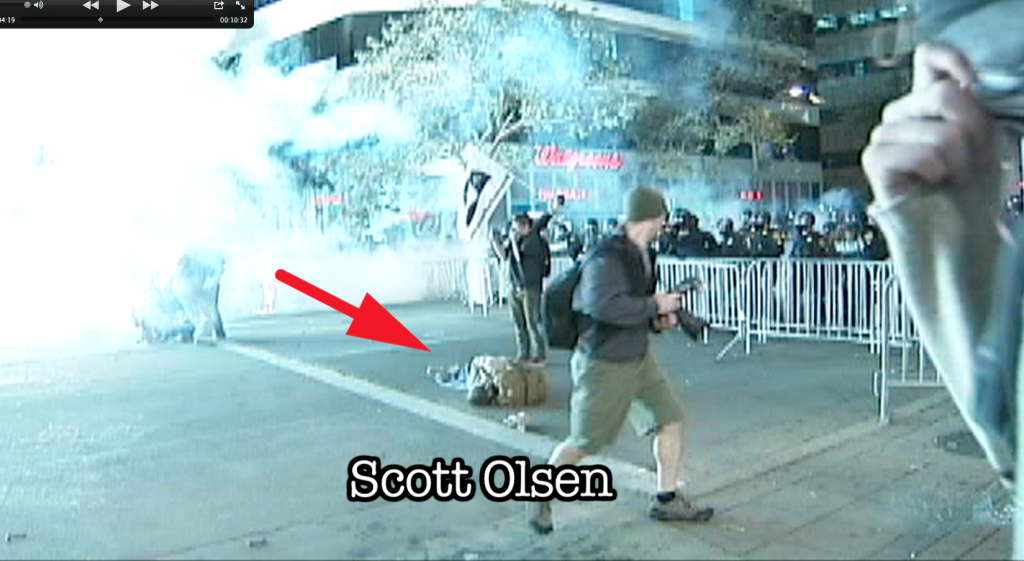 In an independent investigation commissioned by the City, former Baltimore Police Chief Tom Frazier found that "the fact that no law enforcement officer, supervisor, or commander observed the person falling down or prostrate in the street during the confrontation was unsettling and not believable."
Mr. Olsen said that he is unable to return to his high tech career. "In the hospital, I had to learn how to talk all over again. Part of my brain isn't working anymore. It's not like something I really want to talk about all the time. I relive it every day."
"This is the same police department that shot longshoremen and protesters with so-called less lethal munitions during a peaceful antiwar picket at the Port of Oakland in 2003," explained Chanin. "At that time, the City and Police agreed to stop these practices and adopted a model policy for constitutional policing of demonstrations." "But as soon as they had some more large protests," said Lederman, "OPD scrapped that agreement and repeated the same mistakes. Scott Olsen's is the worst of the injuries that resulted from that and I wish I could say it will be the last but that remains to be seen."
In July, 2013, the Oakland City Council approved a $1,170,000 settlement in a civil rights lawsuit brought by Rachel Lederman, Jim Chanin, and other attorneys on behalf of journalist Scott Campbell and 11 other persons, Campbell et al v. City of Oakland, 3:11-cv-5498. A separate lawsuit, Sabeghi v. City of Oakland, 3:12-cv-6057, was resolved in December, 2013, for $645,000.
As part of the Campbell settlement and a companion $1,025,000 settlement in Spalding v. City of Oakland, 3:11-cv-2867, regarding unlawful mass arrests of protesters, the City and OPD again agreed to abide by the negotiated Crowd Control Policy and gave U.S. District Court Judge Thelton Henderson the power to enforce compliance with the policy for up to seven years.
However, according to Lederman, "OPD has refused to get rid of so-called "less lethal" weapons such as CS Blast grenades and lead shot filled beanbags, and until they do so, it is only a matter of time before we see another tragedy."