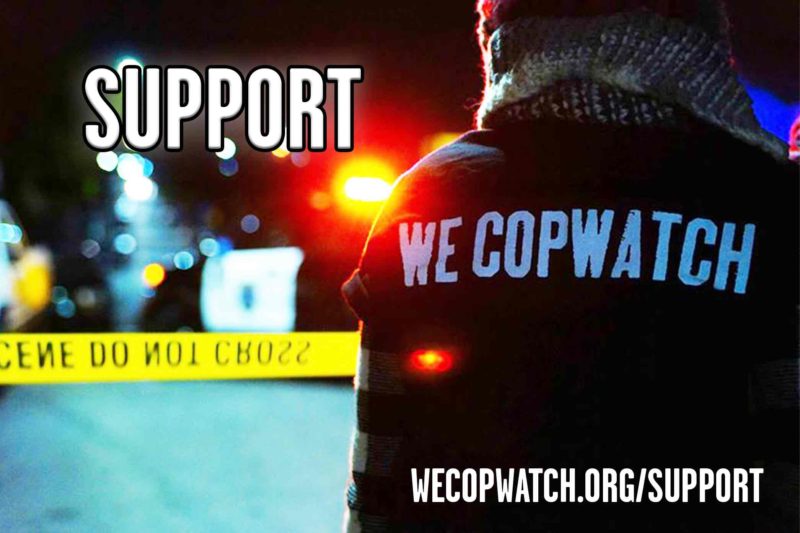 It's 2018 and we're starting our annual WeCopwatch Fundraiser. We receive no formal funding. So we rely on community support to do the work that we do.. It's only January and we've already got a lot in store for the year. Check out below what we're up to, and if you believe in our work, donate what you can to WeCopwatch through PayPal at WeCopwatch@gmail.com or
---
Copwatch College
http://wecopwatch.u9pav6di2v-dv13xq9yq4gq.production-example.runcloud.site/copwatchcollege/
Over the past three years, we have developed a series of Copwatch trainings ranging from know-your-rights when stopped by the police, to best practices while cop-watching, to how to safely and effectively respond to police shootings and other critical incidents involving the police.
We have traditionally offered these trainings to the public as well as groups and organizations. This year, we are excited to announce we will be touring with Copwatch College to colleges and universities across the country.
Trainings will include:
1. Know your rights when stopped by the police
2. Copwatching (best practices)
3. First responders (deploying to critical incidents involving the police)
4. Conducting people's investigations
If you would like us to come to your educational institution – whether it be a public school or a university campus – we'd love to come to your classroom.
Contact us at WeCopwatch@Protonmail.com
Subject Line: Copwatch College
---
St. Louis
We are coming up on our fourth year of work in the greater St. Louis area. With the city recently being named as having the highest number deadly encounters with police, we want to enter 2018 focused on continuing our existing Copwatch work, but we will be conducting additional First Responder trainings throughout the year so that our community is better equipped when police violence occurs.
First Responders Video
---
No Line 3



WeCopwatch is on its second year supporting Native-led Copwatch projects and initiatives. Since last August, we have been on the Fond du Lac Reservation at the Makwa Initiative Frontline Resistance Camp, supporting their fight against Enbridge's Line 3 pipeline replacement project in Minnesota. We have trained the camp in how to film evidence during actions, distributed video cameras, and this month we will be implementing a mobile media hub (for which we fundraised), so that wherever the struggle leads our family, they will have the necessary skillset and resources to document and produce media content while being in charge of their own narrative.
Important note: We have written successful grants for the Makwa Initiative, and are providing ongoing support; but if you want to support the work they do, please donate to them directly below…
Legal Fund: Youcaring.com/makwalegal
Camp Supplies Fund: Youcaring.com/makwacampsupplies
---
Background to WeCopwatch
WeCopwatch is a national copwatch organization dedicated to supporting the formation of copwatch groups and initiatives in communities most impacted by police violence. WeCopwatch was founded in 2013, and has been busy since.. Here's a few things we've been up to over the years. .
---
2013
Was involved as an investigator in high level civil rights abuse cases against the Oakland Police that resulted in millions of dollars for victims
1. Scott Olson: Iraq War Veteran Injured In 'Occupy' Protests Awarded $4.5 Million Settlement
2. Kayvan Sabeghi: Iraq War Vet Settles with Oakland in Occupy Beating
3. Occupy Oakland: Occupy protesters arrested in Oakland to share $1.4 million settlement
4. Oscar Grant Protests: Oakland Reaches $1M Settlement With Oscar Grant Protesters

---
2014
Helped support the formation of a community defense Copwatch in the Ferguson neighborhood where Mike Brown was killed.

TIME Magazine: Ferguson Citizens Given Wearable Cameras to Film Police
---
2015
1. Supported the Baltimore community following the Police killing of Freddie Gray
New York Times
2. Supported Ramsey Orta (Ramsey filmed the 2014 NYPD Chokehold killing of his friend Eric Garner)

(To support Ramsey visit RamseyOrta.com)
---
2016
1. Supported the formation of the St. Louis First Responders to train the public how to respond to Police shootings
http://wecopwatch.u9pav6di2v-dv13xq9yq4gq.production-example.runcloud.site/jointhestlfirstresponders/
2. Supported Native-Led Copwatch group at Standing Rock
http://wecopwatch.u9pav6di2v-dv13xq9yq4gq.production-example.runcloud.site/copwatch-cameras-for-standing-rock/

---
2017
1. Our Copwatch Documentary screened at Tribeca Film Festival!

Amazon Video
Copwatch Film
2. We conducted Copwatch trainings across the US (LA, Tulsa, Sisseton Reservation, Fond Du Lac Reservation, Oakland, Atlanta, St. Louis, just to name a few)
3. We supported Copwatch Initiatives at Camp Makwa on the Fond Du Lac Reservation.
https://www.facebook.com/makwainitiative/