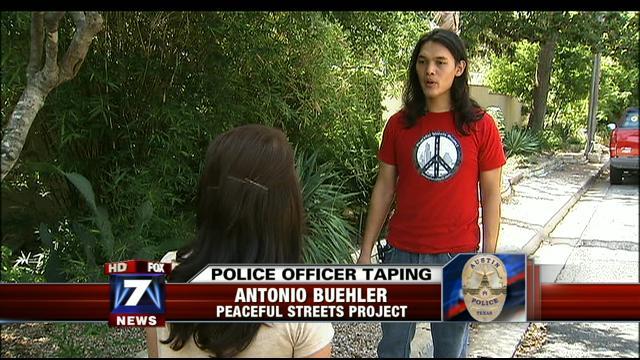 This is a repost from Copblock of a press release sent-out by their friends active with Peaceful Streets Project on April 3rd, 2013
_______________________________
GRAND JURY FAILS TO INDICT BUEHLER OR OBORSKI ON FELONY CHARGES;
INDICTS ANTONIO BUEHLER, NORMA PIZANA, SARAH DICKERSON ON MISDEMEANORS
Four weeks after convening, the Travis County Grand Jury chose not to issue any felony indictments against Antonio Buehler or Austin Police Department (APD) Officer Patrick Oborski related to their New Year's Day 2012 incident.
On New Year's Day 2012, Oborski observed a car that was being driven without its headlights on West 6th street in downtown Austin, and pulled the car over at the 7-11 on N. Lamar and W. 10th Street. While Oborski was conducting a field sobriety test behind the vehicle, Norma Pizana who was a passenger in the vehicle, yelled from the passenger seat to the driver that the driver did not have to submit to a sobriety test. Oborski walked up to the car, leaned in and told Pizana not to "interfere" with his investigation, and then returned to the driver to continue the field sobriety test. However, according to the Penal Code, speech is not sufficient to "interfere" with an investigation, and Pizana was never charged with such a crime. After Pizana was told to stop attempting to communicate with the driver of the vehicle, APD Officer Robert Snider arrived on the scene and began to speak to Pizana.
Antonio Buehler, who was a designated driver that night, pulled into the same 7-11 as he was driving a friend home, in order to refuel the truck he was driving. When he finished fueling up, Buehler and his passenger, Ben Munoz, began to get back into their truck when they heard Pizana scream violently. They turned and saw Snider violently pulling Pizana out of the vehicle, and then throwing her down on the ground. As Pizana continued to cry out in pain, Oborski joined in and they began to apply continued upward pressure on her arms in what is considered a torture move by the U.S. Military and Federal Government. At that moment, Buehler tried to take pictures of what he believed was a violent assault. When Pizana noticed him taking pictures, she begged him to record the incident, and Buehler then began to demand that the cops stop abusing Pizana. Although Pizana was seated in her car, was not a threat to herself or the public, and her driver had not yet been arrested, she was arrested for Public Intoxication, a Class C misdemeanor.
After Snider and Oborski handcuffed Pizana and began escorting her to a squad car, Oborski turned and walked aggressively toward Buehler, got in Buehler's face, and asked "who do you think you are?" Video shows that Buehler put his arms down by his side, with his palms forward in a non-threatening manner as he took a couple steps back, while Oborski continued to step toward Antonio and into his personal space. Video then shows Oborski violently thrusting his hands into the chest of Buehler a few times, pushing Buehler back until he was trapped between the bed of the truck he had been driving and Officer Oborski. After repeatedly and forcefully pushing Buehler in the chest, while Buehler kept his arms raised with palms facing forward, Oborski then attempted to arrest Buehler.
After Buehler was taken to the BAT Mobile and coerced into blowing into a breathalyzer machine, and being told by the technician that Buehler "broke" the machine by "blowing too hard", he was then escorted to a transport vehicle where Oborski allegedly told Buehler that "you don't f*** with police, you f***d with the wrong cop this time and now you're going to f***ng pay", after which he was transferred to Travis County Jail where he was charged with Felony Harassment of a Public Official, a 3rd Degree Felony, and Resisting Arrest, a Class A misdemeanor.
When Buehler was released from prison the next day, he was told by Ben Munoz that witnesses were present at the scene of the arrest, although the police prevented the witnesses from sharing their contact information with Munoz. Buehler immediately began to post fliers around the 7-11 location, and use social media to implore witnesses to step forward. Several witnesses did step forward, to include one who took cell phone video of the incident which proves that Oborski lied in his affidavit (Buehler never spit on Oborski; Oborski never wiped his face).
Despite about a half dozen witnesses that stepped forward willing to swear under oath that Pizana did not assault Snider and that Buehler did not spit in Oborski's face, the cell phone video, the 7-11 surveillance video, audio from both Oborski and Snider, and self-incriminating lies written up in the affidavits of Oborski and Snider, the Austin Police Department and the District Attorney continued to press forward with the charges against Buehler and Pizana. In addition, 11 days after the initial arrests, and after Pizana shared her story of abuse with the media, the Austin Police Department filed two new charges against Pizana for resisting arrest and failure to obey a lawful order.
The Grand Jury did not indict Buehler for either the felony harassment of a public official charge or the resisting arrest charge. Instead they indicted him for failure to obey a lawful order, a Class C misdemeanor punishable by up to a $500 fine. The Grand Jury did not indict Pizana for public intoxication or failure to obey a lawful order. They did, however, indict her for resisting arrest, a Class A misdemeanor punishable by up to a year in the Travis County Jail.
In the 15 months since the New Year's Day incident, Buehler and other Austin activists launched the Peaceful Streets Project to fight back against police abuse, corruption and misconduct. They have held over a dozen Know Your Rights Trainings, a summit where they handed out 100 video cameras to needy residents of Austin, dozens of Police Abuse Complaint Departments and scores of cop watch events.
[Related video from YouTube.com/TheCopBlock]
The Grand Jury also returned indictments against Antonio Buehler for failure to obey a lawful order, a Class C misdemeanor, for filming police on August 24th, August 26th and September 21st, 2012.  Sarah Dickerson was also indicted for failure to obey a lawful order while filming police during the September 21st, 2012 incident.
A City of Austin Municipal Ordinance requires a person to comply with an order of a peace officer and prohibits a person from obstructing or interfering with an officer engaged in his official duties.  Violation of this ordinance is a Class C misdemeanor punishable by up to a $500 fine. However, there was no evidence that either Buehler or Dickerson ever obstructed or interfered with an officer engaged in his official duties. Further, Austin Police Department policy (p. 106) clearly states that officers are not to "[i]n any way threaten, intimidate or otherwise discourage an individual from recording  officer's enforcement activities", which is exactly what APD did to Buehler and Dickerson in each one of the instances in which they were charged with "failure to obey a lawful order".
In all, the Grand Jury met on six occasions and heard from 13 witnesses, including Antonio Buehler and Officer Patrick Oborski, although they did not hear from either Buehler or Dickerson regarding the post-New Year's Day incidents, nor any of the Peaceful Streets Project volunteers who witnessed those incidents.  The felony charges considered by the Grand Jury were tampering with a governmental record by Officer Oborski as well as harassment of a public servant by Antonio Buehler.  The Grand Jury also considered whether Officer Oborski committed official oppression. However, the Grand Jury did not consider any charges against Officer Snider, nor did the Grand Jury did consider felony charges of Aggravated Perjury or Aggravated Assault against Oborski or Snider.
The Class A misdemeanor for Pizana will be transferred to County Court and will be handled by the County Attorney's Office.  The Class C misdemeanor cases for Buehler and Dickerson will be transferred to Municipal Court where they will be handled by Municipal Court prosecutors.
Media Contacts:
Austin Police Department:
512.974.5750
715 E. Eighth St., Austin, TX 78701
Peaceful Streets: