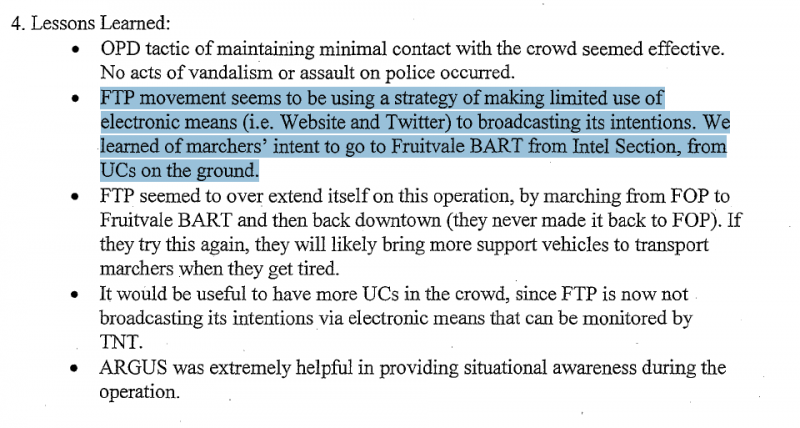 There are many ways to effectively document the movement while protecting the space, its movements and people's privacy. Live Streaming is generally NOT one of them.
A common issue with Streamers is their display of entitlement, often citing the value of bringing the movement to the people. But Streamers have a hard time admitting that the police find their work more valuable then demonstrators.
In a world of voyeurism and exhibitionists, Streamers often get carried away, interpreting their role as being a narrator for the movement. They often film people without their consent, placing more value in presenting to their viewership, then protecting the group that is already taking risks by just getting out into the street to protest.
One of the biggest problems with streaming is that it gives real time information to the police as far as what people are present, the group's intentions, as well as its location and routes. Embedded Streamers give police a tactical advantage when trying to conduct mass arrests.
An even more tragic contract Streamers impose on demonstrators is the raw, unedited, archived video that is often made public and available online for law enforcement to use later to help identify and target people.
Before we move to "Streamer Solutions" lets review some "Streamer tactics" that are favorable to law enforcement, and almost always at the expense of the people.
Very Poor Streamer Etiquette
Calling People out by Name on Streams.
People don't go to protests for other people to call them out on streams that are put up permanently online for law enforcement to review.
Filming Peoples' Identities on Streams
Law enforcement use streams to target and identify people for repression and arrest
Narrating your Interpretation of what Kind of Action is Taking Place
Streamers often divulge personal opinions rather than facts when narrating about actions. Are you prepared to be a witness for law enforcement in the future?
Filming Direct Actions
Everything you film, can and will be used against protesters if law enforcement has anything to do with it.
Narrating Logistics and Tactics
At the height of Occupy Oakland, Undercovers were being called into certain FTP protests because of the "no Live Streaming" / "no Twittering" tactic.
FTP marches are ongoing Fuck the Police marches that take place in Oakland and across the Bay.
Narrating Group Routes
Police have a much easier time arresting people in the streets when they have Streamers narrating the group's routes. You don't need Undercovers and helicopters when you have a front-row seat.
If you want to be helpful to the movement, be honest about your intentions. Is your viewership more important than the people you are standing with? Do you want to be doing something that benefits the police over the people? Every action, every mass mobilization, has a story that can be told. But folks need to either start holding "non-streaming" actions again, or streamers should stop operating as informants for the police.
If any of these issues are concerning to you, maybe consider NOT "Live Streaming" your next protest. Pick up a still camera, conduct some audio interviews, heck shoot some video. There's no reason why you can't go home after a protest and produce some content that is useful and not harmful. But in case it's not in your blood to consider other people on that level, here are some good Live Stream tactics.
"Good" Livestream Tactics
Stand hundreds of feet away from the group so the low quality recording doesn't pick up conversations or peoples' identity.
Don't film peoples' identity without their consent.
Don't narrate intentions, tactics, locations, or destinations.
Wear a bright shirt that says "Live Streamer" or "Informant."
More "Real Good" Livestream Tactics
Live Stream an event, panel, or discussion where all parties consent.
Live Stream a demo or action where all parties involved consent.
Live Stream your interactions when being stopped, questioned, or harassed by law enforcement. (maybe put your channel on private!)
Be safe out there, and make it safer for the masses by considering them when you point a camera at them.