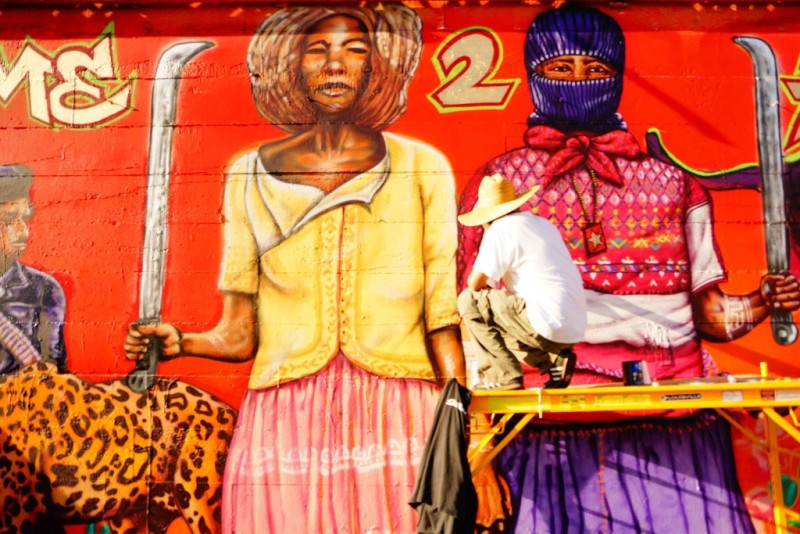 While the city of Oakland flaunts its newly developed downtown area, this "revitalization project" has come at the cost of the residents of Oakland. Gentrification, along with a brutal police force, has displaced black and brown residents as a means to "clean up" the neighborhood. AfrikaTown is a community effort to provide a different alternative, one that supports and lifts the existing community rather than displace it. AfrikaTown is already an important and necessary aspect of West Oakland, where people come to gather, celebrate, and eat.
Within AfrikaTown is Qilombo, a community center that offers workshops and events to the residents. It has a bookstore, a free store, and a food distribution program. Adjacent to Qilombo is a garden that has been transformed over the last year to provide fresh vegetables for the community, with a beautiful mural that depicts struggle across the black diaspora. Hundreds of people have helped to bring AfrikaTown to life, and we need more support than ever to see it continue.
Come out and support so we can see AfrikaTown become an established community in our city.
WeCopwatch supports Africa Town.
See You in the Streets
Follow us http://WeCopwatch.org
Like us on Facebook http://www.facebook.com/wecopwatch
Grab some Gear at http://wecopwatch/shop
Follow us on Twitter http://twitter.com/wecopwatch
Watch us on Youtube http://youtube.com/wecopwatch