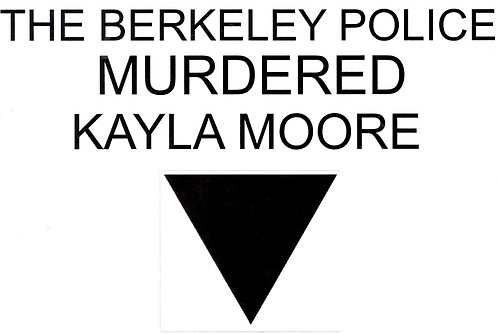 (Repost from AnnGarrison.com)
KPFA's Ann Garrison interviews Berkeley Copwatch founder Andrea Pritchett about the Kayla Moore killing by the Berkeley Police Department
KPFA Evening News, 04.06.2013
In February KPFA News reported on Black transgendered Berkeley resident Kayla Moore's death in Berkeley Police custody, after a violent struggle with police at her apartment on Allston Way on February 12th. Earlier this week Berkeley Copwatch, which has been conducting a citizen investigation of Moore's death, contacted KPFA to say that the coroner's autopsy report on the cause of Moore's death will be withheld indefinitely at the request of the Berkeley Police Department.
KPFA spoke to Berkeley Copwatch founder Andrea Prichett, who said that she and other Berkeley Copwatchers plan to attend the Berkeley City Council meeting on April 30th, at City Council Chambers, 2134 Martin Luther King, Jr. Way in Berkeley, at 7 pm.
Click here for more WeCopwatch coverage of Kayla Moore

Answers! Not Undercovers!