2015 you will be seeing a lot of new WeCopwatch projects!
From assisting the growth of Copwatch efforts in Ferguson, to the expansion of Copwatch initiatives nationwide, we are excited to see what the coming months have in store for us.
Know Your Rights Trainings
One of the issues any police accountability site runs into is the immense need for information. On any given day multiple inboxes are loaded with legal questions from people who have been abused by law enforcement, or are interested in forming a copwatch group.
Founding member of WeCopwatch, Jacob Crawford ran into this same issue when he first joined Berkeley Copwatch in 2000. There were calls daily for Copwatch support, and at times, not enough hours in the day to even respond to all of them.
Back then the answer to this issue was to create a Know Your Rights Training Video "These Streets Are Watching" which would be played in living rooms and auditoriums across the country.
With so many recent inquiries about how to start a Copwatch, WeCopwatch has been in the back rooms for the past month building an online course that will cover your rights during police encounters, and while documenting police stops.
This course will be ongoing, free, and available. 10 week online courses will be provided throughout the year with the availability of a Trainer's to help assist. And anyone can independently sign up outside of the 10 week course offers, and take the course at their own pace.
The course allows people to either take exams or creative writing to determine one's knowledge and understanding or the course material, and will have intensive focus classes on consent, detentions, arrests, documentation, de-escalation, handling evidence, national lawyers guild legal observing training.
If you want to grab some Copwatch gear, do so! All proceeds go right back into current projects.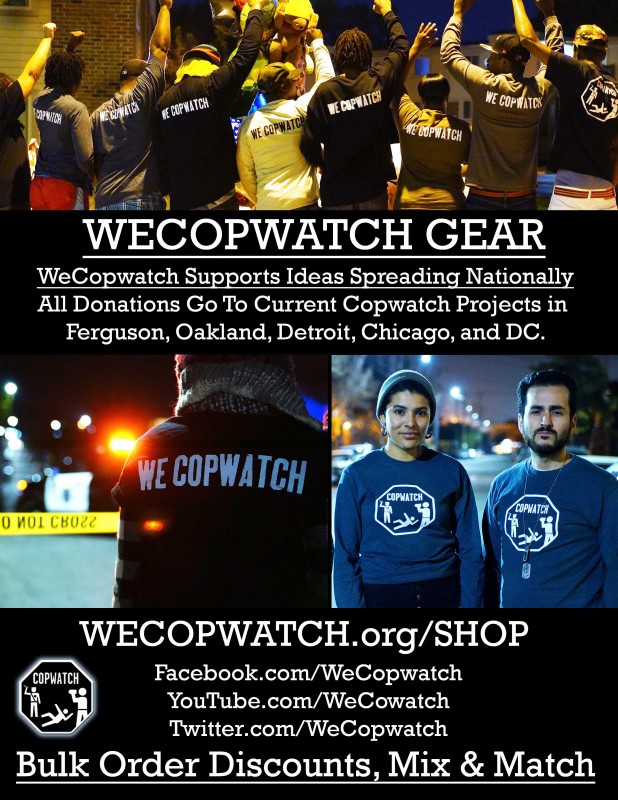 We are also building our surplus. We have multiple cities we are trying to support. If you believe in the camera drive as seen in Fergsuson feel free to contribute at:
Copwatch Camera Ferguson Fund
If you have a used camera, or used mac, or can 3D print cameras, or am down to help press shirts and or literature regionally. Email us at [email protected]. We need regional support in Oakland, Ferguson, Chicago, Detroit and DC.
WECOPWATCH CAMERA DRIVE!