In 2016 we left our families, our homes, our lives to go defend the water at Standing Rock, North Dakota. We stood in struggle with hundreds of tribes from across the country and continent. Our fight was for mother earth, and it was for our people, our history, and for our future.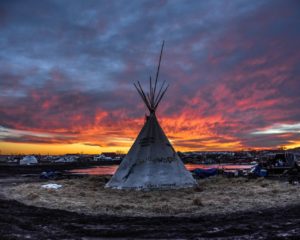 Neither the violence brought on us by DAPL employees, local, state, federal, or tribal police, nor the snowy, windy, winter of North Dakota could break our spirit. When our camp was finally raided in February, some of us who had remained to the end left Standing Rock on a bus and we began a 2 month journey driving over 6,000 miles, through over 20 states.
We are a group of young natives, who share the same passion to protect, love and honor Mother Earth. We have been traveling from city to city connecting with other people, sharing our stories, speaking about the fight for our earth, and conducting know your rights trainings.
We have visited many communities, and answered many calls to action, whether it be to sing prayer songs, speak to the youth, or be on the frontlines.
We've made stops in NYC, Chicago, Washington DC, Denver, Los Vegas, Seattle, Tuscon, Compton, Minneapolis, and the Bay Area.
As we enter spring, we have found ourselves a long way from home. After traveling through two different blizzards, varies rain storms, and high winds, we find ourselves in California, thousands of miles away from home.
Many of us are currently in Oakland, California, staying with our WeCopwatch family who stayed with us at Standing Rock throughout the fall and winter.
We are currently fundraising to get the clutch on our bus fixed, and raise funds for a NoDAPL / Copwatch food truck.
And of course Copwatching whenever the police stop people in our neighborhood.
The plan is to head back to the Dakotas to visit varies camps that were built in the weeks following the Standing Rock Raids. We want to bring buffalo, and warm meals to our relatives as the camps begin to grow.
Bay Area! We are here. We want to meet you. We'd love to do any report backs, fundraisers, or even have coffee or dinner.
Contact us at [email protected]
Also
Folks can donate to the Rolling Resistance here
https://www.youcaring.com/ocetiwarriors-768414
Folks can donate to the No DAPL / Copwatch Food Truck here
https://www.gofundme.com/support-standing-rock-rock-refugee
More info about the Rolling Resistance here
https://www.facebook.com/therollingresistance/
More info about the No DAPL / Copwatch Food Truck here
http://wecopwatch.org/support-nodaplcopwatch-food-truck/