Seconds after an Oakland Police Officer shattered Scott Olsen's skull with a lead-filled munition, Officer Robert Roche threw an explosive teargas grenade at persons who were attempting to come to Olsen's aid as he lay critically injured on the ground in clear view of the police. Roche was fired, but on July 30, an arbitrator overturned the termination and reinstated him with full back pay.
Officer Roche is known as a three time killer who has cost the Oakland taxpayers almost $6 million in civil settlements to date. Roche's helmet number is visible in TV news video of this incident, and there is no dispute that he threw the CS Blast that scattered the good samaritans and burned Olsen's shoulder. Olsen, unconscious and bleeding from the head, was clearly visible by Roche and numerous other nearby officers before concerned people rushed to his aid and were bombed.
Sadly, the arbitrator's decision is not unexpected. In twelve out of the last fifteen personnel arbitrations in which OPD officers challenged their terminations, the officers were successful in getting their jobs back. It is meaningless for Oakland officials to profess support for reform of OPD if the City Attorney is unable to make personnel discipline stick - even in an egregious case like this one, where the officer's wanton act of violence was captured on video and shared around the world.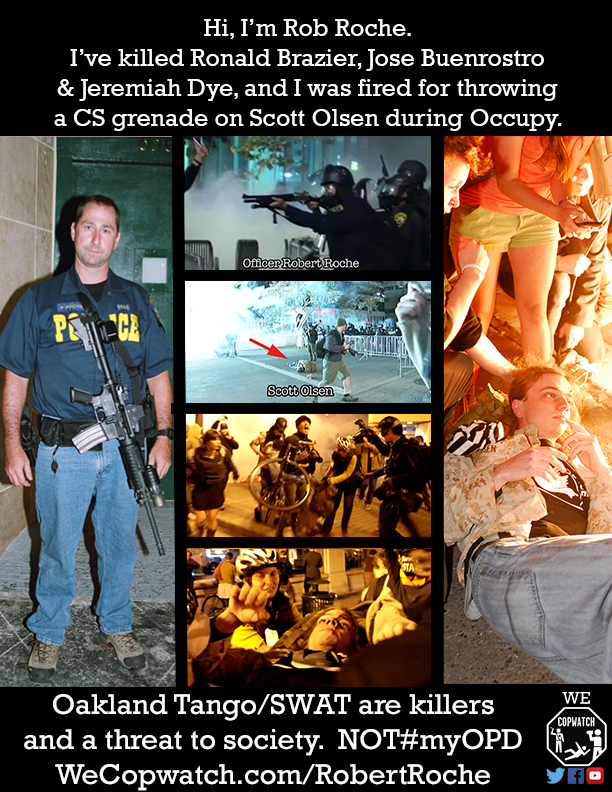 http://wecopwatch.org/robertroche/
The problem goes beyond particular rank and file officers. The arbitrator's decision was apparently based in part on the fact that Roche had been ordered to deploy gas by then-Captain Paul Figueroa. At the same time, Figueroa authorized the use of "beanbag" impact munitions, on persons who might attempt to throw the teargas devices back at the police. It was inevitable that Scott Olsen and others would be seriously injured or killed, yet Figueroa was not disciplined and has since been promoted to Assistant Chief. This is one reason that attempts at police discipline consistently fail in Oakland: commanders are never made to take responsibility.

Now Assistant Chief Paul Figueroa
The OPD's Crowd Control Policy, adopted as part of a federal court order in settlement of earlier litigation, prohibits officers from deploying the CS Blast grenades or the impact munitions into a crowd. Yet, that is exactly what was done on October 25, 2011, and that is still OPD's practice, despite the serious brain injury to Scott Olsen which led to a $4.5 million settlement. Scott Olsen, his attorneys, and the National Lawyers Guild and ACLU are demanding that Chief Whent comply with the Crowd Control Policy and ban these weapons for crowd control.
Sign the petition here: http://www.change.org/petitions/no-less-lethals-4-opd