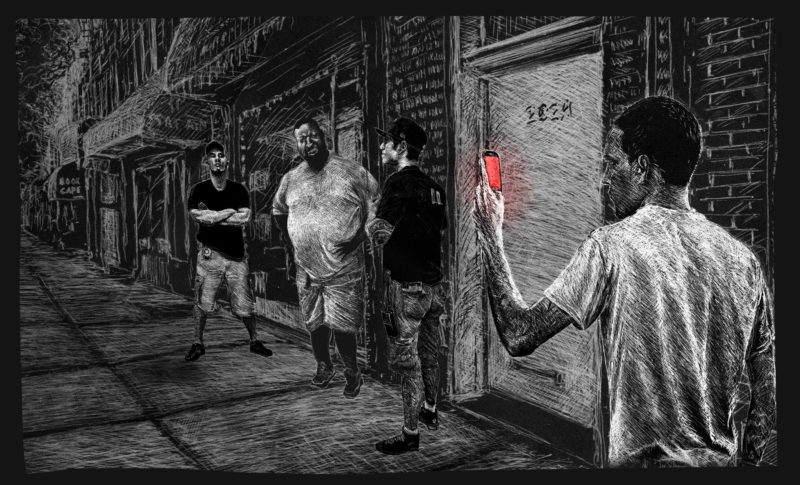 Solitary Confinement
From behind bars Ramsey Orta continues to stand strong. For those who do not know, over the past couple months, the ongoing harassment of Ramsey from corrections officers escalated, resulting in Ramsey being placed in solitary confinement.
Ramsey was pulled out of Franklin Corrections and transferred to Gouverneur Correctional Facility to serve out his solitary confinement, and was ultimately transferred to Alton Correctional Facility where he resides today. All these facilities rest on the New York/Canadian border, intentionally placing Ramsey as far away from his support network as possible. We visited Ramsey last month as he prepared to leave solitary and under the circumstances, Ramsey was in good spirits. Over the past few months Ramsey has been working on a graphic novel.
4 Years is a Long Time
Ramsey was having issues with correctional officers off the bat, and for the first 6 months of his incarceration, Ramsey was moved around to varies facilities, eventually landing in Upstate New York at Franklin Correctional Facility. The first year wasn't easy supporting Ramsey either. It particularly difficult finding a lawyer who could assist Ramsey with his day to day issues and needs… Feeling helpless, we encouraged Ramsey to make the best use of this time, regardless of the obstacles. We explored different mediums available to him to express himself, whether it be writing, or illustrating, or even recording audio segments over the phone.
We held strong and are happy to report that we are entering 2018 with not only legal support, but an incredible support network. With the help of one generous donor, Ramsey received a typewriter this past fall, and has been busy ever since. WeCopwatch connected Ramsey with graphic illustrator Jonathan Burkhart, and many visits and 50 hours of interviews later, we are beginning to see the fruits of their labor.
A Graphic Novel
Of all of the people involved in Garner's murder, the only person currently serving a prison sentence, is Ramsey.
Though his story has been told in pieces elsewhere, he has never before spoken publicly at such length and depth about what happened to him following the release of the Garner footage.
The struggles he encountered-with the public, the press, the activist community and most of all with the police-represent an important and not-often-told portion of the ongoing fight against police intimidation and brutality.
What can happen to someone who stands up to the police? How do the police exact revenge against those that expose them? What was it about Ramsey that gave him the will to film the police? (This was, in fact, not the only video he released of police brutality. ) These are questions that the graphic novel hopes to answer. -From The Official Gofundme for this Project
About the Art
Stylistically the art will draw heavily from expressionist movies and woodcuts from the late 19th and early 20th centuries and from expressionism's mid-twentieth century cousin, film noir. To achieve this feel all images will be drawn mainly using either white ink on black paper, or with scratchboard.
All backgrounds, landscapes and street shots are "on location"-which is to say they are drawn from references of the actual areas where they take place. In many cases reference images were shot with a Metro PCS Galaxy Exhibit-the same type of phone which Ramsey used to capture Eric Garner's death. Many of the faces which appear in the graphic novel were also inspired by the myriad personalities that populate the Tomkinsville neighborhood in Staten Island. -From The Official Gofundme for this Project
Where photographic reference was not available, locations were recreated in detail by Ramsey. For example, a good portion of the story's events take place in Ramsey's apartment on Van Duzer St, in Staten Island. Since the time of the story he and his family have moved out of the apartment, so there is no longer access. RAMSEY, who at one point in time planned to become an architect and studied perspective and blueprinting while at technical high school in his teens, created very detailed floor plans of this location which were used extensively in the recreation of the scenes. He also drew extensive schematics of where the cops would place themselves in his neighborhood. -From The Official Gofundme for this Project
Plans for publication
We are currently exploring a variety of options to have the final comic published and printed. We have made no final decisions yet, so if anyone has any ideas please contact us through the gofundme page or at [email protected]. -Ramsey Orta Graphic Novel
We want to thank everyone who has been writing, donating, and sending care packages. This has been really challenging, but you have helped build a support network that impacts Ramsey.
We encourage all that have been supporting, to spread this gofundme and help make this graphic novel become a reality. And as always send letters and packages to
Ramsey Orta, 16A4200
Altona Correctional
PO Box 3000
Altona, NY 12910
He can get books magazines, regular mail, and money orders.
For phone calls, you must call Securis Mobile @ 1800-844-6591 to create a plan. You can also donate directly to Ramsey using his Paypal [email protected]
If you have any questions please contact [email protected]
Copwatch Trailer (available on Amazon)
Video produced by WeCopwatch about Ramsey before he was incarcerated