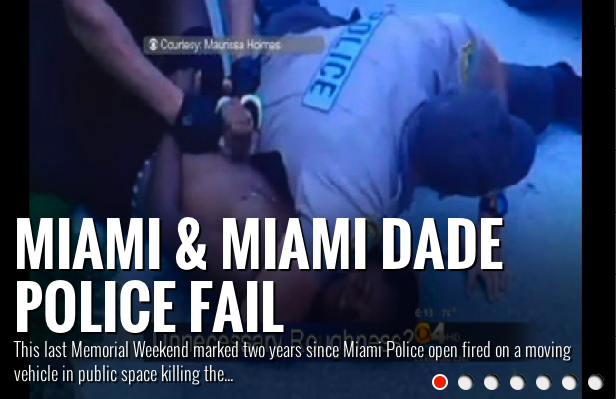 Content Compiled from CarlosMiller.com. This past Memorial Weekend marked two years since Miami Police open fired on a moving vehicle in public space killing the person, as well as wounding three officers and several bystanders.
Following the shooting, Miami Police would try to confiscate video of the incident. This video was shot by Narces Benoit and only exists because Narces hid the memory card before having the phone confiscated by the gun wielding officer at the end of the video.
This Memorial Day Weekend in particular, it was the Miami Dade Police making fools of themselves after jumping a 14 year and his puppy because he gave them "dehumanizing stares". Wait! Isn't that the same look that they spend hours in front of the mirror practicing.The video was captured by the youth's mother.
This past Memorial DayCarlos Miller of Photographys Not A Crime also hit the streets to document police conduct. This is a repost from his site. . .
Today is Memorial Day, marking exactly two years since police officers on Miami Beach fired more than 100 bullets at an unarmed man, killing him instantly while injuring four innocent bystanders, then seizing cameras at gunpoint from witnesses who had recorded the barrage.
That incident, which made international news, was the latest in a series of Constitutional violations against citizens on the controversial holiday weekend called Urban Beach Week, which draws thousands of young, black people to the shores of Miami Beach every year.
I was one of several hundred people arrested in 2009 when I photographed Miami Beach police officer David Socarass leaning against his car, which resulted in police deleting my photos with me recovering them after I had gotten out of jail the following day.
In 2008, Miami Beach police arrested Alex Heid of Federal Jack and deleted his footage, which he also recovered as he will explain in a video down below.
Although the Miami Beach Police Department has since implemented a policy educating officers about the law when it comes to photography, issues still abound as I discovered Saturday night when I was out there with my cameras and some friends.
The good news is that the officer who shone his flashlight into my lens in an attempt to thwart me from video recording them making an arrest, a cop who refused to tell me his name as he threatened to arrest me for blocking the sidewalk, was later informed by a superior officer to not harass citizens with cameras as you can see in the above video.
That, in itself, is victory considering it was only three months ago when Miami Beach Police Major Angel Vazquez claimed I was not allowed to video record inside the police department because it was a "private building" conducting "private business."
The bad news is that because the city of Miami Beach spends about a million dollars to bring in hundreds of officers from neighboring jurisdictions on Memorial Day Weekend, there is nothing guaranteeing the police department's photo policy will be followed by every cop out there.
There are more than 20 police agencies in Miami-Dade County, including Miami-Dade police, Miami police and Miami Beach police - all three whom have arrested me for taking pictures since 2007.
Saturday night, a group of U.S. Marshals attempted to intimidate a Miami Herald reporter from video recording an arrest as you can see in the video below.
Marc Caputo did an excellent job standing his ground, which is not something you usually see coming from a mainstream media reporter.
But then again, the Herald Sunday published an investigative piece on the 2011 shooting of Raymond Herisse, highlighting the inconsistencies in the police justifications to fire 116 bullets at him, even though only 16 struck him.
Solid, investigative pieces is not a lot of something we've seen in recent years from the Miami Herald, so it's a good thing they are remaining on top of this.
From today's article:
Among the puzzling issues:

• The officer: Police said that they first shot at Herisse because he sped off after hitting a police officer who was on bike patrol. They have yet to offer video evidence, witness testimonials, or describe the extent of his injuries.

• The videos: The security camera videos from the vicinity of the shooting, released under a judge's order, do not depict Herisse speeding. In fact, just before the barrage of gunfire, his car wasn't moving at all. Video shot from a window above Collins Avenue shows the car lurching down the street — accompanied by the sound of four shots being fired — before slowly rolling to a stop. After a few seconds, police officers trot up, line up along the driver's side and open fire. The shots, crackling like a pack of more than 100 lit firecrackers, cause the amateur cameraman's video to shake.

• The gun: Officers suggested that Herisse was firing a gun from his car. But the driver's side window, riddled with incoming bullets, was closed, and police didn't report finding a gun in Herisse's blue Hyundai until three days after the shooting. Police said the delay was due to the length of time it took to process the crime scene. Gunshot residue tests later proved Herisse never fired a weapon that day, according to the medical examiner's findings.

• The witnesses: Witnesses claimed that immediately after the shooting, police officers aggressively seized their cellphones. One video showed a police officer pointing a weapon directly at a witness, ordering him to surrender his recording device. The witness claimed officers then stomped on it. He said he was able to hide the phone's memory card in his mouth, thus preserving the video.

• The rap sheet: Police immediately heralded Herisse's rap sheet, which they said showed he was a thug with a history of violence. In reality, most of his arrests were for motor vehicle violations. The most serious crime he was accused of was stealing a car.

The Boynton Beach crime: Two days after Herisse was killed, Boynton Beach police announced with striking certainty that Herisse was the gunman wanted in connection with an armed robbery in Palm Beach County. They contended that the victim positively identified Herisse from a photo lineup. They did not point out that the victim had previously identified someone else, by name, as his shooter.

• The why: The people who know first-hand what was said, what was seen, what prompted the initial shot — the 12 officers — have not given statements.
One thing the Herald did not mention is that the Hialeah police officer who claimed he was struck by Herisse, which prompted 12 officers to fire upon him, is the same cop who was written about recently in a Photography is Not a Crime article.
A high-ranking police officer who snatched a man's camera earlier this year because he was video recording himself in city hall trying to obtain some public records.
The same cop who is described as a "thug" by former Miami Herald reporter and Pulitzer Prize-winning journalist Elaine de Valle in an email interview with Photography is Not a Crime.
None other than Commander Oscar Amago, whom you can see in action in the video below. Not exactly the most credible officer.
Even though it's been two years, the case remains open with Miami Beach police refusing to disclose its evidence as reported in the Herald article.
But like many police jurisdictions in Miami-Dade, it has had its hands full dealing with an ongoing slate of internal scandals.
So far, no major incidents have taken place on Miami Beach this weekend. In fact, arrests are down compared to previous years, a result of police being slightly less aggressive as well as a downturn in the popularity of the weekend.
Most are obviously turned off by the aggressive police presence, which in the past has included arresting people standing on the sidewalk without warning on loitering charges, even though it is a thriving business district that depends on foot traffic.
Even many residents are turned off by the militarization of the operation, which requires them to produce identification just to access their own homes.
James Echols, a social media friend who lives on Miami Beach and runs the site, Soul of Miami, stated the following on Facebook Friday:
Such bullshit. I just spent an hour in a massive traffic jam on MacArthur Causeway thanks to a City of Miami Beach Government police barricade. Then I got hassled by a cop trying to get to my home. I've lived in Miami Beach for 10 years and it's ridiculous that I have to tolerate this preposterous overreaction. Such a collossal waste of time and money.
The truth is, this weekend has been a goldmine for local police officers who cash in on endless hours of overtime courtesy of Miami Beach taxpayers, many who appreciate the increased police presence because it gives them a perception of safety.
So it's only natural that they will make hundreds of arrests in order to justify the overtime and keep it coming every year, never mind the fact that most of those charges rarely end up in convictions.
When I took my 2009 charge of resisting arrest to court, officer David Socarras - whose brother, Dario, was fired last year from the Miami-Dade Police Department for ignoring calls and falsifying reports - never showed up, which resulted in my case dismissed.
The cop who arrested Heid of Federal Jack ended up arrested himself on kidnapping and extortion charges, just one block away from where Heid was arrested, except Richard Anastasi ended up serving two years in prison while Heid's charges were dismissed.
Heid describes this typical South Florida story in the video below.
In 2010, after my charge from my 2009 arrest was dismissed, I returned to Miami Beach on Memorial Day Weekend and came across Socarras again, who had let a beard and his hair grow out and was now working in plainclothes.
When he spotted me, he asked if I had remembered him, which I did not because I did not recognize him, before having another officer bring a drug-sniffing near me in the hopes to find something to arrest me on as you can see in the video below.
So this year I was a little hesitant on returning out there (I live in the City of Miami, which is across the bay from the City of Miami Beach), but I went with a couple of young PINAC readers and developing citizen journalists, including Armando Rodriguez and Joel Franco, whom I've written about in the past when school officials forced him to delete footage of a security guard body slamming a friend of his on school grounds.
In Franco's video below, you can see how police had barricaded all the streets, forcing me at one point to drive my car in reverse for a block to get out of their "perimeter."
In years past, all of us would likely have been arrested, considering we were all armed with cameras.
While Miami Beach police seem to be improving in how they treat photographers, they still haven't reduced their intimidation tactics.
But last night wasn't nearly as bad as it has been in the past.
Echols, the Miami Beach resident who did not agree with the exaggeration of police presence, had these words to say on Facebook on Sunday:
I think it is very ironic that on this weekend when we are supposed to be honoring the men and women of the military who fought and died to preserve our rights and freedoms, City of Miami Beach Government andMiami Beach Police Dept. are trampling all over those same rights. It is a shameful disrespect to our military personnel.