Oakland Police Shine Light into WeCopwatch Camera
On June 7th, 2013, WeCopwatch hit the streets of Downtown Oakland to observe police interactions with the public.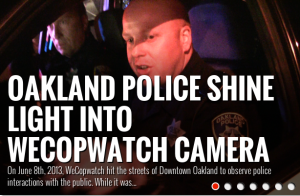 While it was a fairly mild evening it is usual for Oakland Police to shut down 1rst Friday in sections. As police attempted to move people from the West Grand and Telegraph area, one officer became aware of that he was being videotaped and shined a spot light into a WeCopwatch camera. But then he stopped, likely realizing that the interaction would probably make it to youtube by the next morning.
People have the right to observe police conduct. There are no reasons to shine a light in someone's camera in a lit area except to obstruct their ability to document.
The last memorial weekend in Miami, Carlos Miller of Photography's Not A Crime found himself in a similar experience.
Following the release of this video, Miami Police Spokesperson said the actions of the officer were immature.
http://photographyisnotacrime.com/2013/05/27/miami-beach-police-spokesman-calls-cop-immature-for-shining-light-in-my-camera-lens/
If you like what you have seen or read feel free to
Donate at https://www.wepay.com/donations/wecopwatch
Check out more of out content at http://wecopwatch.org/
Like us at https://www.facebook.com/WeCopwatch
Watch Videos at http://www.youtube.com/WeCopwatch
Check up on us at https://twitter.com/WeCopwatch